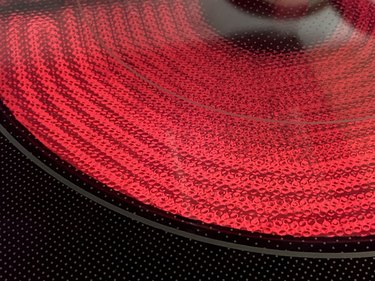 Ceramic cooktops are very appealing. Their smooth surface is easy to clean, and they give the kitchen a sleek, tidy appearance. Pyrex products also have a lot of appeal with their colors and their midcentury flair. There were once some types of Pyrex stovetop cookware that were safe for any type of cooktop, but Pyrex cookware made today is not meant for cooktops.
Pyrex stovetop cookware has long been a staple in kitchens. Most Pyrex on stove use is limited to specially made cookware. Classic glass Pyrex bakeware is not suitable to be heated on cooktops, ceramic or otherwise. Its bakeware dishes, casserole dishes and colorful mixing bowls, many of which came with traditional patterns, are a staple of many American homes.
Pyrex once made cooktop-safe glass saucepans, frying pans, teapots and coffee percolators. Known as Flameware, this Pyrex stovetop line of cookware was made of aluminosilicate glass that could be used on a cooktop, whether electric or gas. Flameware was introduced in 1936 and was produced through 1979. So, if you own a piece of Flameware that is still in good condition, it can be used on a ceramic cooktop.
Most Pyrex products made from the late 20th century to today are made with tempered soda-lime glass, which is heat-resistant but not suitable for use on ceramic cooktops or with any other source of direct heat. Ceramic cooktops are smooth-surfaced cooktops made with tempered ceramic glass. There are some varieties of tempered glass cookware that can be used on ceramic cooktops, but these are not made by Pyrex.
Pyrex glass is heat-strengthened and produced through a thermal-tempering process that is intended to make it durable and long-lasting. The company does state that Pyrex glass or any glass products can break if knocked against a hard surface or struck. The company also cautions that Pyrex glassware should not be used on a gas or electric stovetop, under a broiler, in a toaster oven or on a barbecue grill.
Pyrex bakeware can be heated in the oven, but sudden temperature changes can cause the dish to break. To avoid this, if you are heating up a frozen food item in Pyrex bakeware, add a small amount of liquid first to prevent sudden temperature changes to the dish.
Glass-ceramic CorningWare Visions products can be used on ceramic and gas cooktops. CorningWare and Pyrex are a part of Correlle Brands. For many years, both were manufactured by Corning Glass Works. CorningWare Visions glass-ceramic products can not only be used on a ceramic cooktop but under a broiler, in a toaster oven or on a barbecue grill. Accompanying Pyrex glass covers, however, should not be placed on a direct heat source.
Corning Glass Works began after the Bay State Glass Company moved to Corning, New York in 1868 to make glass products for the booming railroad industry. Corning scientists developed a borosilicate glass product in 1909 that could withstand heating and cooling. At that time, cooks mainly used cast iron, earthenware or tin to heat food. The wife of one of the scientists tested a spongecake, which she baked in borosilicate glass. She liked the results, and the Pyrex line began in 1915.
Pyrex later switched to using tempered glass. That may have been because boron, used in the making of borosilicate glass, is toxic and costly to dispose of. Tempered glass can withstand temperature changes, although some say it doesn't work as well as borosilicate.
Pyrex is still manufactured with tempered glass, but the current product line shouldn't be used on a ceramic cooktop. Although Pyrex no longer makes Flameware, the Pyrex line of glass cookware that was made for use on all cooktops, Flameware did inspire CorningWare Visions. That brand sells clear glass saucepans and Dutch ovens. These can be safely used on ceramic cooktops.