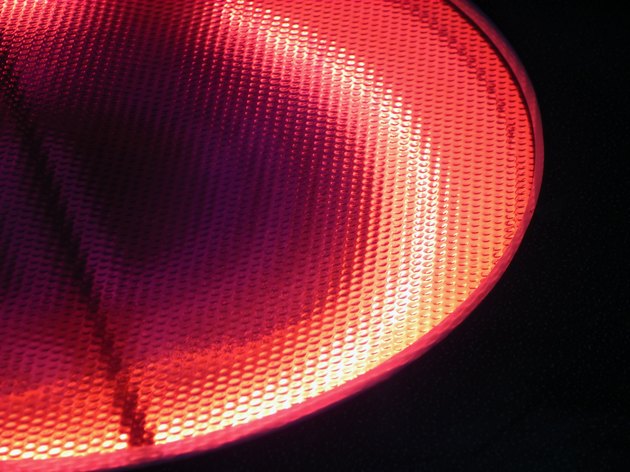 Ceramic cooktops have a sleek appearance that works seamlessly in most kitchens -- but not with all cookware. Pyrex glass or borosilicate dishes, pans and other bakeware products can be used in preheated ovens but should not be used on top of any stove, including ceramic cooktops. Pyrex stainless-steel pans or heavy-duty nonstick pans are fine to use on most stove ranges, but only at medium or low temperatures on a ceramic ranges.
History
Best known for its tea kettles, bakeware and casserole dishes, Pyrex was originally marketed as being safe for stove tops. Pyrex stopped advertising their products as safe for the stove top when it dropped its popular Flameware line in 1979. Pyrex then introduced stainless steel pans and heavy-duty nonstick pans designed specifically for stove-top cooking. These stove-top safe pots and pans are not made with Pyrex glass, but their lids are.
Expert Advice
Ceramic cooktops that operate by induction work best with pots and pans made from stainless steel, cast iron or magnetic steel, notes Utah State University Housing and Equipment Specialist Dr. Leona K. Hawks. When using Pyrex metal pans, use only low to medium heat to avoid melting the pan. Discard any damaged metal cookware.
Warnings
Never use Pyrex glass products on top of heat sources such as toaster ovens, campfires or ceramic cooktops. This causes uneven heating of the Pyrex bottom, which can fracture. Place Pyrex glassware only in a preheated oven. Never place Pyrex directly on countertops, tables or sinks. Place it on a cooling rack or kitchen towel until it cools. Never place Pyrex glass lids directly on a heat source.
Considerations
In the public mindset, the Pyrex brand has become synonymous with borosilicate glass. A customer asking a store clerk for Pyrex usually refers him to the glass products and not the lesser-known nonglass products. Pyrex purists may remember when Pyrex glass products were used on top of stoves instead of just inside them. But despite the nostalgia, don't use the borosilicate-glass Pyrex products the same as you would stainless-steel saucepans and skillets.