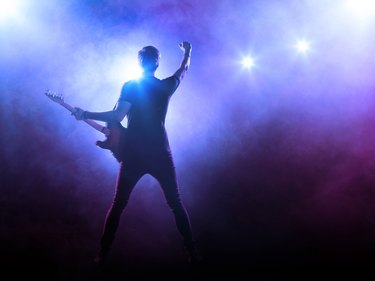 What could be more perfect for Halloween than an Ozzy Osbourne Halloween costume? The prince of darkness and his wife Sharon are tailor-made for this holiday because of their unique styles that lean toward a creepy aesthetic. No one will have to guess who you are this year when you are wearing a great Ozzy costume.
The Perfect Ozzy Halloween Costume
Ozzy fans know that this rock 'n' roll legend has long, dark, straight hair; wears tinted round glasses; and is known to bite the heads off bats. The star used to be the lead singer for the band Black Sabbath and then had a highly successful solo career. He and his wife Sharon and their children have also had popular reality TV shows.
The perfect Ozzy costume should be mostly black, but you can have a few different colored accents if you want, such as a white or royal purple shirt. If you use either of those, though, you will need a black jacket for sure. The jacket can have thin white stripes but lean toward black. You can also switch out the jacket for a cape if you like. He also wears heavy silver and gold jewelry, like a long chain with a cross or something similar.
His hair is naturally a dark brown, and he wears it shoulder length, straight and parted down the middle. Ozzy also dyes his hair black, so you can't go wrong with an Ozzy Osbourne wig that is either of those colors. To add some authentic touches, put some black eyeliner all the way around your eyes and carry a plastic bat.
What Does Sharon Osbourne Wear?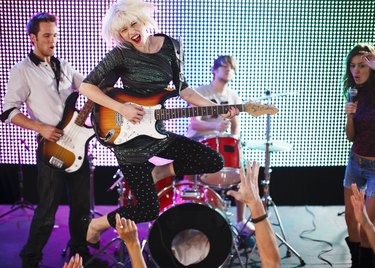 Sharon's main identifying feature is her beautiful bright red hair. More recently, she did let it go to its natural silver/white color, but she claims that it didn't feel right, and she is back to flaming red. Sharon wears her hair cut short in a lightweight, layered style with the sides pulled forward in front of her ears. If you cannot get your hair into this style on its own, then you can get a Sharon Osbourne wig.
Sharon is known for her good fashion sense. The clothes she wears on TV can range from elegant and conservative gowns to business suits to sweatpants. For Halloween, it may be hard for people to know who you are if you dress as Sharon Osbourne without your very own Ozzy. It would also be better to dress in black. You could wear a black dress with an embellished jacket or a black women's suit with a white top.
The internet has plenty of photos of both Sharon alone and with Ozzy, so searching for these is a good place to start for costume inspiration. She wears a lot of silver, gold and purple. Since her hair is often tucked behind her ears, you can add some silver earrings or ear cuffs since she seems to like edgy jewelry.
Ozzy and Sharon: Mannerisms and Accessories
If you want to really take it over the top, then you and your partner can bring a few more accessories and do your best to act like Sharon and Ozzy (but within reason and within the confines of the law).
Sharon tends to carry expensive handbags; you can use a crossbody so you won't have to worry about carrying it in your hands. Ozzy has a lot of tattoos and wears black nail polish and heavy rings.
Both have British accents, and when Ozzy speaks, it can be hard to understand what he is saying. He also likes making scary faces and reaching his hands out to grab at people. For a final touch, you can download some Ozzy and Black Sabbath music onto your phone or use a small speaker. Stick it in your pocket and press play.