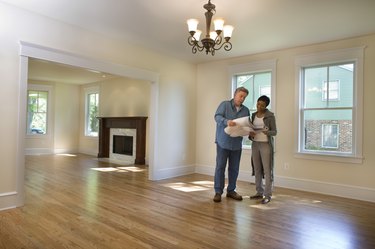 For those who live in raised ranch homes, it's not uncommon for limited space to become a problem over time. This is especially true for couples who are working towards building a family, as small raised ranch homes can become tight quarters once children come into play. Adding an addition is a perfect way to increase the functionality of a raised ranch home, and doesn't have to be as expensive as you might expect.
Extra Floor
If you live in a small raised ranch, one of the best ways to add an adequate amount of additional space is to simply add an extra floor to the house. With an entire new floor added to your home, you can turn even the smallest raised ranch into the perfect place to raise a family. While adding a new floor to your house is surely one of the larger additions you can make, the end result is more than worthwhile, especially if you've found living in your home as it is to be uncomfortable due to its size.
Additional Master Suite
In some cases, adding an additional master suite to a home serves as an effective and useful addition. This is especially true for those who wish to build a space for children or parents to live in. You can add another master suite to your home in a variety of different ways, such as building it off of your first floor living room. In addition, the space can be customized to be as large or small as you choose. Also, this is a rather small add-on in comparison to other types of additions.
Sun Room
If you wish your home were better suited to allowing you and your family to enjoy the outdoors, a sun room can serve as an ideal addition. Typically added to the first floor of a home, sun rooms are characterized by a variety of windows and a light, airy floor plan. As with building an additional master suite, adding a sun room to your home is a relatively small addition that still creates a huge impact.
Kitchen Addition
Those who live in small raised ranches often complain that their kitchens are too small. If this is the case for your home, adding on to your kitchen can be an effective solution. Note that kitchen additions only work on some homes, as the floor plan has a large impact on whether this type of addition is possible. A kitchen on the second floor of a home, for example, will be difficult to add on to. If your space is right for it, however, you can get quite a bit of mileage out of a kitchen addition, especially if you like to cook.