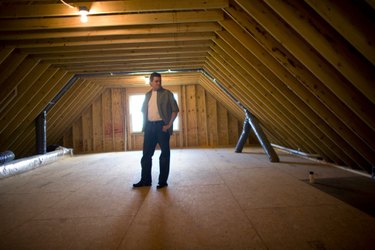 Converting unused attic space into storage is a logical step in home improvement. With the wide range of products available to convert an attic to storage or living space, you can add needed square footage relatively easily. Check with your local building authorities before using the space for anything other than storage, since you may need to reinforce the trusses to accommodate an extra load.
Plywood or Chipboard
Plywood or chipboard is the least expensive option for storage flooring. The wood should be at least 5/8-inch thick to handle a heavy load. Since the boards are sold in 4-foot by 8-foot sheets, you may need to cut them into 2-foot wide strips to get them into the attic space. Be sure to trim the boards lengthwise so the ends land in the middle of a truss before you screw them in place.
Loft Panel Flooring
This type of flooring is made from particle board and is pre-cut into 2-foot wide strips for ease of use. They have a tongue and groove edge on the long sides, so they slot together, which adds strength. Lay the long sides horizontally across the rafters or trusses and secure with screws.
Plastic Panels
Made from recycled materials, these panels are already cut to either 16- or 24-inch widths, depending on the space between your trusses. These are lightweight, interlocking panels that are secured to the attic joists by screws. Each panel can hold up to 250 pounds, and they resemble floor grates, allowing for adequate ventilation.
Hardwood
If your intent is to use the attic for a purpose other than storage, you will need to consider a more finished look. Use 1-foot wide boards in pine or spruce to make quick work of putting down a floor. Be cautioned though, that even with insulation, hardwood flooring will cause a lot of foot traffic noise to the floor below. Eco-friendly bamboo comes in sheets manufactured specifically for the space between the floor joists, which results in less trimming of the boards for easier installation.
Carpet
To avoid overhead noise in the rooms below the attic, it might be best to carpet the area. Lay a plywood base first, of 5/8-inch to 3/4-inch thick plywood. Add a good padding and then lay the carpet.