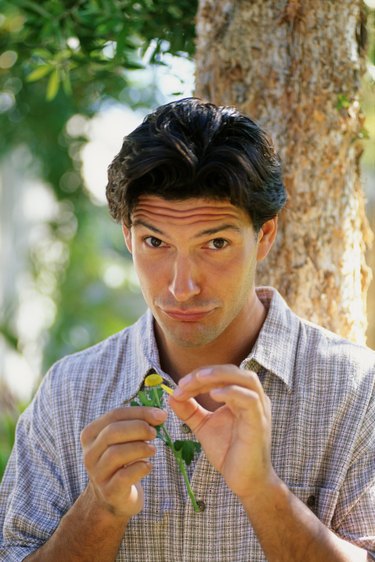 A good gift lets the person on whom you have a crush know that you would like to get to know him better without scaring him away or seeming as if you are only interested in a quick relationship. Put together a gift that shows you have taken time to observe the hobbies, activities and interests that your crush enjoys.
Timepiece
Consider a watch, pocket watch or clock. Show you have been paying attention by selecting a watch that reflects your crush's interests and personal style. Include a note that expresses your desire to date the person. Write something like: "I've spent a lot of my time the last few months thinking about you. I've taken the time to notice your kindness, intelligence, spontaneity and zeal for life. I'd like us to get to know each other better. How about dinner and a movie? I've set the watch to the time and date we can go out." Leave the watch on the person's doorstep so he can process the gift and respond in private, avoiding an awkward moment if your feelings are not reciprocated.
Concert or Event Tickets
Tell your crush how you feel with a pair of tickets and an invitation to join you at a concert or sporting event that you know she will like. When a band, artist or team in which your crush has shown interest comes to town, impress her with an invitation for an evening or afternoon together. The gift shows your thoughtfulness and willingness to explore new things.
Something Handmade
A handmade gift communicates respect and consideration for the recipient. A wood carving, painting, scarf, knitted mittens, collage or homemade baked goods show your crush that you care about him enough to make something special. Think about what your crush enjoys; if she loves birds and you have wood-carving skills, make her a birdhouse. Even if you are not a carpenter, you can build a birdhouse from a kit. If the man in whom you are interested enjoys trains, assemble and paint a model train car, which will show that you care about him and want to share in his hobby.
Flowers and Chocolate
A bouquet of roses and a box of chocolates are a time-honored, romantic way to show someone, especially a woman on whom you have a crush, that you appreciate her beauty. Flowers are symbols of beauty, and chocolate is an indulgent treat. By giving your crush both, you demonstrate that you appreciate her beauty and see her as desirable. Flowers and chocolate are a good way to instantly show your crush that you would like to move beyond friendship to a romantic relationship.