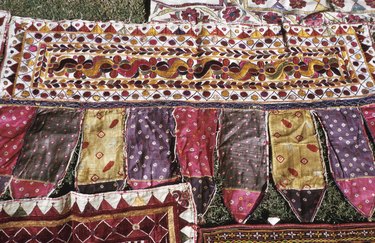 As trends and styles change, neckties quickly go out of fashion. When they are discarded, making them into quilts is a great way to give them a second life. Quilters know that ties are made of the finest fabrics. Avoid the high cost of quilting fabrics by creating a quilt from neckties found in a closet or at the local thrift store.
Circular or Sun Ray
If you want to avoid cutting the neckties, use a circular or sun ray pattern. Start by arranging the ties in a star burst at the center of your quilt. Fill any empty areas with fabric or pieces of neckties. Create a wide border of coordinating solid colors. If you are giving the quilt to a family member, write a memory of each tie on the quilt backing.
Dresden Plate
Use neckties to make a Dresden plate pattern by arranging ties as petals. Set one flower in the center of the quilt and arrange the flowers so they radiate out from the center. Flowers can be pointed if you don't want to cut the ties, or the points of the ties can be cut off if you want the flowers to have flat or curved edges. Some Dresden patterns use a combination of pointed and curved petals. When arranging your pattern, keep in mind that neckties are cut on the bias, which may make them stretch. Stabilize them by ironing a fusible webbing to the back, but do not use the fusible as interfacing as it will make the quilt buckle.
Patchwork Style
Neckties are ideal for scrappy patchwork quilts. Make the entire quilt using a single size square, or choose several sizes to piece together. Alternatively, cut triangles and stitch them together to make the squares. Add a backing and bind the edges, or add batting if you want your quilt to be thicker. Once it is finished, add buttons for a masculine embellishment.
Block
With block quilts, neckties are used as scrap fabrics. Cut pieces from each tie and use them to piece together blocks. The blocks are then arranged to create different patterns. Follow traditional quilt patterns or get creative and make your own. Use neckties in the border of any quilt, whether it is pieced from neckties or fabric.