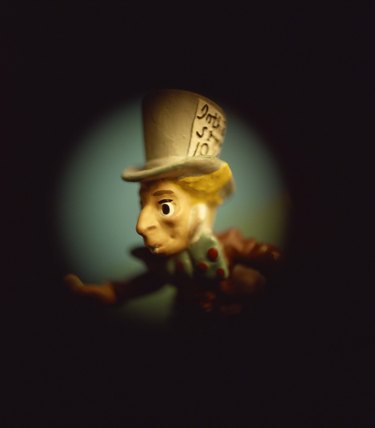 The Mad Hatter is one of the most iconic figures from Lewis Carroll's classic story, "Alice in Wonderland." Although the character in the book is male, a Hatter-inspired costume can easily be adapted to fit a girl. The distinctive top hat, bow tie and mismatched clothing are classic elements that make the costume identifiable regardless of who is wearing it. Feel free to use any portrayals of the Mad Hatter that spark your imagination, from the original book to the film starring Johnny Depp.
The Hat
The hat is the defining part of the Mad Hatter costume. You may be able to find a large top hat at a thrift shop, but you can also construct your own using colorful poster board and glue. Cover the entire hat with a fabric such as felt or velvet. You can also tie a thick band of brightly-colored fabric around it, then tuck in a small note card that says "10/6" or a few playing cards.
The Clothing
Try to find a plaid or patterned suit jacket and a large bow tie. Make the bow tie from a piece of brightly colored, polka dot fabric or simply buy a novelty bow tie at a party store. For a female Mad Hatter, you do not need to mimic the Alice In Wonderland version exactly, but retain the spirit of the character. A plaid skirt, a bright button-down shirt with the collar turned up, and mismatched knee-high stockings would work well. Add a pair of colorful suspenders and some sparkly gloves to complete the look.
Makeup
For the Johnny Depp version of the Hatter, cover your face with white face paint. Use brightly-colored eyeshadow, both above and below the eyes. Add a garish color of lipstick. If you prefer to stay with the classic Mad Hatter, leave your makeup neutral but purchase some large false teeth at a party store.
Hair Style
A costume-store wig is a possibility, but you can also get creative with your own hairstyle. Consider putting your hair into two pigtails and inserting wires to make them stand out in odd directions. Add spray-on hair color if you desire; white hair for the classic Hatter, and orange for the Depp version. If you can find some hatpins at an antique or thrift store, insert them into your hat brim or your hairdo.
Accessories
Wear mismatched shoes or boots with different colored laces. Carry around a colorful tea cup as if you just came from your party. Also, bring a stuffed white rabbit around with you as a companion. Additional accessories might also include a gold pocket watch, playing cards and a walking cane with a distinctive decoration on top.