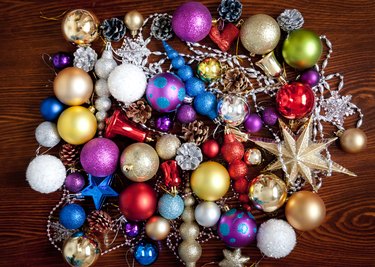 Children of all ages can create salt dough ornaments in one afternoon of crafting, though of course the littlest ones will need a wee bit of help from you or their older siblings. When finished and sealed with a varnish, these ornaments can last for many years and become family keepsakes. For the best results, purchase a paint to use on salt dough that young children can safely use and that will adhere well to the prepared dough. Luckily, you have several paint options that fit these requirements.
Acrylic paints come in nontoxic formulas, which makes them a good choice for projects that small children will be working with. Because acrylic paints are water-based, materials and spills can be cleaned easily; simply wash the area or instrument with warm, soapy water before the paint dries. You can apply multiple layers of acrylic paint to your ornaments, either in the same or different colors. Apply two coats of acrylic paint and let the first layer dry completely before adding a second.
You can use tempera paint for your finger paint Christmas ornament project. This paint comes in nontoxic varieties and will dry with a matte finish. It also cleans up easily with soap and water, just like acrylic paint; however, tempera paint can become smudged if it becomes wet after drying. Tempera is one of the most commonly used paints for finger painting, so it could work well for small children who may have trouble handling a brush.
Glitter Glue for Holiday Sparkle
Glitter glue is exactly what its name suggests—glitter suspended in a glue. It usually comes in squeezable tubes and can be used to make lines and dots. The drying time on glitter glue varies, but it is usually around 30 minutes. If it is touched before it dries, it will smudge. Just as with tempera and acrylic paints, glitter glue comes in nontoxic, washable varieties, so it is safe for children and cleanup is fairly simple.
If you'd like to add some dimension to your dough ornament project, you might try puff paint. This paint, sometimes called puffy paint or dimensional fabric paint, comes in squeezable bottles and can be used to create 3-D lines, dots, letters and details. Even though it is mainly used on fabric, it will adhere to hardened dough ornaments. Toddler safe puffy paint comes in nontoxic varieties, so it's safe for small children, although older children may get the best use from it, since it requires some precision to apply well.
Sealing Works of Art With Varnish
If you'd like your ornaments to last longer, you'll probably need to apply a coat or two of varnish to them. Varnish comes in both spray and brush-on forms, but no matter which one you choose, you should probably do this part yourself or leave it to older children. Also, if you have young children, you might put varnished ornaments on higher branches so that children can't pull them off the tree and put them in their mouths.