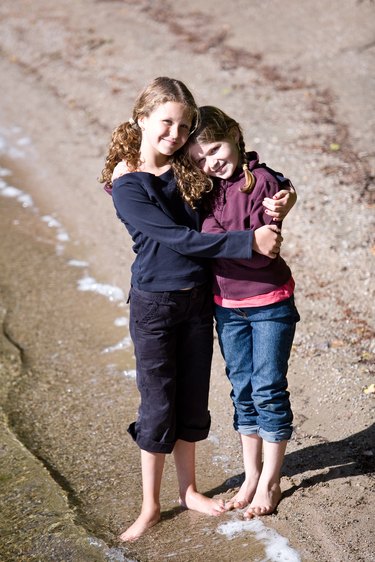 Galatians 6:10 states "Let us be good to all people". One of the most important lessons for young Christians is to be kind to one another. A craft is a fun way to remind small children the importance of kindness. These hands-on activities will help young children remember the lesson.
Sharing Butterfly
Cut butterflies out of white construction paper, and glue them to craft sticks. Give each child a butterfly, a single sheet of colored tissue paper and some glue. Ensure each child has a different color piece of tissue. Help the children tear off pieces of their tissue paper and glue them to their butterflies. Explain to them how much more colorful their butterflies would be if they were kind and shared their colors. Encourage them to pass their sheets around to each other to create more colorful butterflies.
Helping Hands
Pour finger paint into a large shallow dish. Have children use the paint to make their hand prints on a large sheet of construction paper. Ask them what actions they can do to help other people. Write these down for them on the paper, and have them illustrate the actions. Print the Galatians 6:10 Bible verse on the bottom of the sheet for them.
Friendship Wreath
Have each child trace his hand on a colored piece of construction paper. Cut out the hand prints. Tell the children to draw in their hand prints an example of a kind act they can do for their friends. Glue the hand prints together to form a circle, and display it in your classroom.
Kindness Chain
Cut a piece of construction paper into strips. Have the children write or draw examples of kind actions on the strips. Curl the strips into circles and use glue to keep them together. Interlock the circles to create a chain. Explain how a series of kind actions can turn into a lengthy chain of events. Display the chain in your classroom.