Things You'll Need
Buttons

Felt

Glues

Measuring Tapes

Sewing Needles

Thin Cardboard

Threads

Worktables

Scissors

Paper And Binder Clips

Paper And Pencils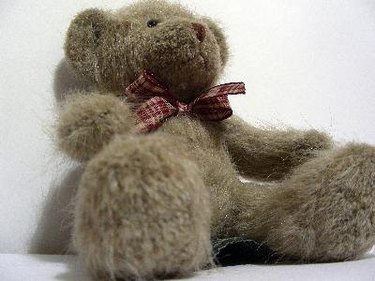 How to Make a Baseball Cap for a Teddy Bear. Teddy bears look great in baseball caps - especially when their ears stick through. Here's how to turn any bear into a major league fan.
Step 1
Use a flexible tape measure to measure the circumference of your teddy's head, right below the ears.
Step 2
Hold on to the circle you've just made. Lift the tape measure up and carefully set it down on a piece of paper, making sure the shape of the circle still reflects the shape of Teddy's head.
Step 3
Draw around this circle carefully: This is your basic pattern.
Step 4
Unfold the tape measure and use it to mark and cut a piece of cardboard about 1/4 inch wide and as long as the circumference of Teddy's head, plus another 1/2 inch for overlap.
Step 5
Bend this strip into a circle, glue it and let it dry.
Step 6
Mark the front, center third of the circle pattern you drew - this will be where the brim attaches to the cap. Draw a brim (or bill) so that it will extend outward over the face. Add three tabs - about 1/4 inch wide and 1/2 inch long - at each end and in the middle on the scooped-out side (you'll need these to attach the bill to the cap).
Step 7
Use this pattern to cut a brim in cardboard.
Step 8
Use it again to cut a brim in felt.
Step 9
Take the circle pattern and use it to draw a bigger circle. For a small bear, cut a circle 3/4 to 1 inch outside of your pattern; for a medium bear, 1 1/2 to 2 inches; for a large bear, 2 to 3 inches.
Step 10
Place your felt circle on a worktable, right side down.
Step 11
Smear the outside of your cardboard circle with glue and set it on top of the felt circle.
Step 12
Pull the edge of the circle up and press it to the gluey cardboard. Do one side and its opposite and then turn 1/4 turn and do one side and its opposite so that you've got 3, 6, 9 and 12 o'clock secure. Then gently do the rest, pleating as you go to gather up the fullness (and adding glue if you need to).
Step 13
Set aside to dry. (Once it's dry, try it on Teddy to make sure it fits.)
Step 14
Place your felt brim on the worktable, right side down.
Step 15
Smear one side of your cardboard brim with glue, and place it glue side down on the felt.
Step 17
Smear glue on the top side of the tabs and squirt a generous line of glue along the inside edge of the bill (where it will attach to the cap).
Step 20
Try the cap on Teddy and cut slits for his ears if desired.
Tip
Use lots of glue. Paper clips or binder clips come in handy to hold material in place until the glue dries.