Things You'll Need
Cotton fabric

Terrycloth fabric

Scissors

Stick pins

Sewing machine

Fabric batting

Liquid stitch

Decorative button

Hot glue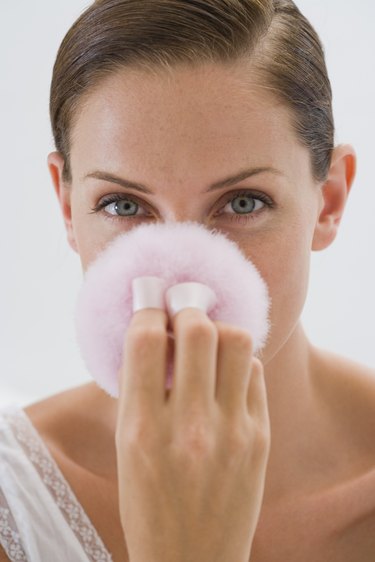 Powder puffs offer a classic, luxurious way to apply your favorite body powder after a shower or home spa treatment. Though most body powders come in bottles with sprinkle tops, you can easily transfer them to a box, complete with a homemade powder puff. There's no need to purchase overpriced powders simply because of the packaging. If you love luxury, you can create it at home. If you have even minimal sewing skills, creating your own powder puff is a breeze.
Step 1
Cut one 6-inch circle from the cotton fabric and a second circle from the terrycloth. Place the circles together, wrong sides facing out, and pin them together around the edges.
Step 2
Stitch around the edges of your circles, leaving half an inch between the edges of the fabric and your stitches. Leave a 1.5 inch opening in the circles.
Step 3
Reach inside the opening and turn the circles inside out. Gently push batting into the powder puff, filling it as full as you can. It should be dome-shaped when you're finished.
Step 4
Turn the raw edges of the opening inward and glue them down with liquid stitch. Pinch the liquid stitched edges together for 20 seconds, then let it dry overnight.
Step 5
Hot glue a decorative button to the center of the cotton side of the puff. This creates a handle.