Opening countless boxes to find your favorite pair of shoes takes time. You can save yourself time and effort if you store your shoes in plastic bags, which also preserves them and protects them from dirt and dust. A plastic bag uses less space than a box and is less expensive than traditional plastic storage containers. Before putting your shoes into plastic, however, take a few minutes to make sure they are clean and properly prepared.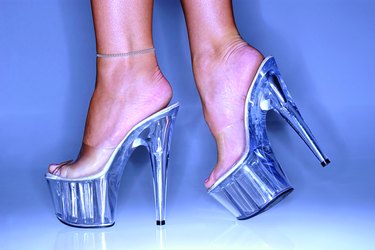 Things You'll Need
Plastic Bag

Soft Cloth Or Sponge

Mild Soap

Vinegar

Labels

Black Marker

Optional Items:

Suede Shampoo

Shoe Stretchers

White Tissue Paper

Shoe Brush

Canvas Cleaner
Step 1
Clean shoes made of artificial materials, such as rubber and plastic, with a soft, damp cloth and mild soap. Use a shoe brush to remove dirt from the soles and any crevice. According to "Martha Stewart's Homekeeping Handbook", clean patent leather with a cloth and a mixture of vinegar and water. Clean leather with a damp sponge. Rejuvenate suede with suede shampoo and a sponge. Care for canvas with canvas cleaner. Check manufacturers' instructions to clean shoes made of fine fabrics, such as silk or satin.
Step 2
Air-dry your shoes to preserve them. This also will protect your feet. Damp, wet shoes are a breeding ground for fungus. Be sure the inside and outside of your shoes are dry to the touch.
Step 3
Insert crumpled tissue paper in shoes to maintain their shape. For closed-in shoes, such as loafers or pumps, shoe stretchers are an option. Buy stretchers at shoe repair shops, department stores and some drugstores.
Step 4
Wrap each shoe in at least two sheets of tissue paper to prevent scuffs, heel prints and color transfer. Cover ornaments, buckles and heels to prevent damage.
Step 5
Select the bag. Plastic bag thickness is measured in mils. One mil is one one-thousandth of an inch. For example, a retail shopping bag is usually two mils. A freezer bag is usually three mils. A clear, zippered freezer bag is a good option to see your shoes. Use one-gallon size for children's shoes smaller than size five. Use two-gallon size for women's and men's shoes sizes six to 10. Use three to five-gallon size for adult shoes larger than size 10 or for platform or wedge-heeled shoes. A drawstring bag also is a good choice. The drawstring closing allows air to circulate. Your shoes will smell fresh and clean.
Step 6
Place shoes upright in the bag to maintain their shape.
Tip
Label colored bags. Nestle a white scented sachet inside a sheet of crumpled tissue paper. Place in each shoe before storage.
Warning
Leather shoes need to breathe. Store them in a bag for only a short time, like a weekend getaway or a day trip to the beach.