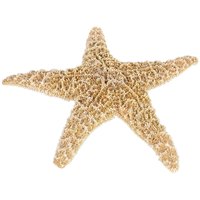 You have spent your vacation combing the beaches and have discovered some beautiful starfish that you would like to preserve for use in a craft or as a decoration in your home. Unfortunately, those starfish may come with a bit of a smell that, over time, will become overpowering and unpleasant. Treating these starfish with a bleach mixture will help give them a crisp color and remove the organisms that are causing the smell. Once your starfish have been treated, they can be displayed alone on a shelf, on the wall or used to create a variety of different art projects, from picture frames to beach shadow boxes.
Things You'll Need
Bleach
Baking soda
Water
Salt
Metal tongs
Flat box
2 Inch deep flat bowl
Take the flat box or box lid and place it on a flat surface. This will be where your starfish will be placed to dry. Sprinkle with enough baking soda and salt to make a thin layer on the surface of the cardboard.
Mix together a bleach and water solution of three parts bleach to one part water. Place enough of this mixture in the bowl to completely submerge your starfish in.
Take your starfish and place them into the bleach and water mixture so they are completely submerged. Let them soak in this concentration for about a minute and then remove with tongs. Place the starfish on the baking soda and salt mixture and allow to dry overnight.