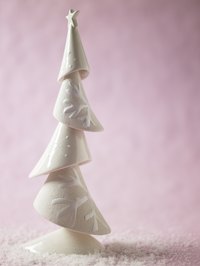 Porcelain statues are popular collector's items but. unfortunately, they're prone to breakage. Virtually all porcelain figurines and statues are hollow, making them light and easy to tip. Repairing these figurines can be challenging. Because porcelain is more like glass than ceramic, it tends to break into a combination of large chunks and dust-like fragments. So while you can glue the large chunks of porcelain back together, a bit of artistry is required to fill in the gaps produced by the missing bits of porcelain and chipped-off glaze. Painting will also be required to restore the figurine to a like-new appearance.
Things You'll Need
Soap
Water
Paper towels
Latex gloves
Super glue
Single-edged razor blade
White self-hardening clay
Acrylic paints
Assorted paintbrushes
Clear spray-on lacquer
Thoroughly wash the statue and all the fragments to remove dust, dirt and debris. Set the statue and broken fragments on paper towels to dry.
Don latex gloves to prevent skin oils from adhering to the porcelain surface. Oils will prevent the glue from adhering properly.
Apply super glue to the fracture lines and hold the broken pieces together until the glue sets. Allow the glue to dry completely, per the instructions on the package.
Scrape excess glue from the porcelain statue's surface using a single-edged razor blade.
Wedge and knead a chunk of white, self-hardening clay to remove air bubbles. This process will also warm the clay, making it more pliable.
Press bits of clay onto the statue to fill in cracks and voids. The clay can also be used to patch the pits produced by chipped-off glaze.
Wet your fingers and run them over the clay to smooth and shape the surface so it blends in with the surrounding porcelain.
Allow the clay to set and harden, per the instructions on the packaging.
Apply acrylic paint to cracks and other areas that require touch-up. You may need to paint undamaged portions of the statue so the damaged regions blend in with the rest of the figurine.
Place the porcelain statue atop a section of newspaper or plastic drop cloth.
Apply three or four coats of spray-on lacquer to seal the paint. Allow each coat to dry between applications.