Things You'll Need
Loose blouse

Worn jeans or skirt

Vintage belt

Corduroy jacket

Worn leather boots

Acoustic guitar with strap

Hat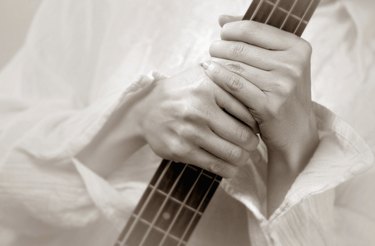 Just because it's Halloween or you've received an invitation to a costume party, doesn't mean you have to be shackled by run-of-the-mill costume ideas. At nearly every dress-up event you attend, you're bound to see one witch, one black cat and a zombie. Branch out by donning a costume off the beaten track, such as a folk musician. You don't have to dress as one particular singer, but can instead showcases influences represented by various folk musicians, such as Woodie Guthrie, Bob Dylan, Joni Mitchell and Bill Monroe.
Step 1
Wear a loose cotton top. Look like a more country-based folk singer by selecting a checkered, plaid or Western-style shirt. Appear more urban based by wearing a plain Oxford-style button-down shirt in white or black.
Step 2
Pair the shirt with jeans or a long peasant-style skirt. The skirt or jeans should look worn, as if you've had it on while traveling around by bus.
Step 3
Buckle a black or brown worn leather belt around your waist. The belt should look vintage and ideally have a decorative buckle. If you'd like to look more urban, don a corduroy blazer.
Step 4
Accessorize with a pair of worn leather boots. The most important part of your costume is to strap on an acoustic guitar around your shoulder.
Step 5
Keep your hair uncombed and generally scruffy looking, as if you've been traveling for days or have been up all night. Place a hat on your head. If you aspire to look more like a country musician, wear a cowboy-style hat. Opt for a fedora or a tweed cap for an urban look.