Things You'll Need
2 large-sized bowls

Dish soap

White vinegar

Large microwave-safe baking dish

2 packets of any powdered fruit drink mix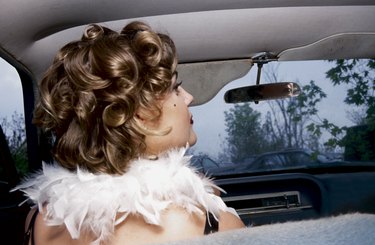 Feather boas can be the perfect accessory for Halloween, a costume party, or just to make you feel fancy for a night. Although you can find a number of white, pink or red boas at almost any party store, you may have a much tougher time finding a different or more specific color to coordinate with your outfit. Instead of settling for a color you don't like, purchase a white boa and dye it almost any color you like. With just some powdered juice mixes, you can create a brand-new color for your boa.
Step 1
Fill up one large bowl with water and two drop of liquid dish soap. Place your boa into the bowl and "stir" it with your hands. This will help to clean off the boa, allowing it to be dyed better.
Step 2
Fill up your second large bowl with water, 1 tbsp. of white vinegar and two drops of liquid dish soap.
Step 3
Remove the boa from the first large bowl and place it into the second bowl. Allow the boa to soak in the second bowl for five minutes while you're preparing the baking dish as described in step 4.
Step 4
Fill the baking dish -- 1/3 full -- with water, 1 tbsp. of white vinegar and three drops of liquid dish soap. Dissolve two packets of your powder fruit drink mix into the bowl. If you want a very dark color -- like blue, royal purple or dark green -- add three packets of the drink mix to the dish.
Step 5
Remove the boa from the second bowl and place it in the large baking dish.
Step 6
Place the baking dish into the microwave. Turn the microwave on "High" for two minutes. When finished, allow the dish to cool for two minutes, then place it back into the microwave for an additional two minutes.
Step 7
Remove the boa from the baking dish and place it in your sink. Rinse the boa off using cool water until the excess dye has been removed.
Step 8
Air dry your boa overnight.