Things You'll Need
Palm trees

Potted plants

Grass skirts

Coconuts

Silk flower garlands

Tiki torches

Sand or sandbox

Gilligan's Island photos

Poster board

Glue

Wooden dowels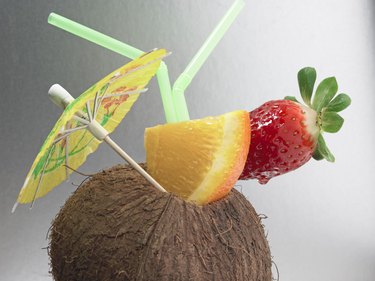 Make your friends feel like castaways on an island at a Gilligan's Island-themed party. To give this party an authentic look that resembles the setting of this 1960s television show, transform the party space to give the appearance of a tropical island. Palm trees, coconuts and other beach-related accents will help to whisk your guests away to a tropical paradise.
Step 1
Display palm trees around the party area. Use inflatable palm trees or palm trees that are made from paper. If possible and if you have use for them after the party, consider decorating with real palm trees to create an authentic tropical look.
Step 2
Incorporate large, leafy potted plants, such as ferns and banana leaf plants. Set the plants in floor urns and set them around the space.
Step 3
Hang grass skirts around the edges of tables to give them a tropical look.
Step 4
Place groupings of coconuts on the center of tables and on other surfaces, such as a bar or shelving unit.
Step 5
Drape silk flower garlands in tropical colors on the back of chairs, along pieces of furniture and wrap them around the coconut decorations.
Step 6
Set tiki torches around the space to give it an island feel.
Step 7
Cover the ground of the party area with sand. If this isn't possible, include a large sandbox in the area.
Step 8
Blow up and print out pictures of some of the characters from the television show, the stranded ship, the SS Minnow and tiki huts. Hang the pictures on the walls of the space. If there aren't any walls, glue the images to pieces of poster board. Glue wooden dowels to the back of the images and insert the dowels into the ground to stand them up.