Things You'll Need
Stainless steel 16-quart pot

3 gallons water

Fabric test swatch

Veil

2 black teabags

Mild detergent

Stain removing detergent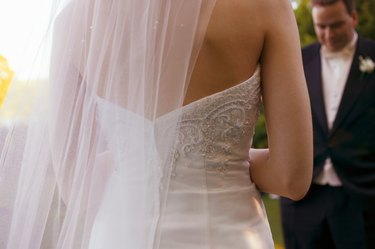 The veil is the finishing touch that turns a white gown into a wedding dress. The style and length of the veil can make or break the wedding look and the color is equally important. The veil and gown do not have to match perfectly but they should complement one another. The easiest and most forgiving way to dye a veil is with a tea bath. Tea-dying is a gradual process of dipping the fabric in steeped tea to achieve a color from ivory to dark brown. Always do a test-dye on a small swatch before taking the plunge.
Step 1
Soak the fabric and test swatch completely in cold tap water. Meanwhile, bring three gallons of tap water to a boil in a 16-quart pot.
Step 2
Add two black teabags to the boiling water. Turn off the heat and let the tea bags steep for one to two minutes. Remove the teabags and discard.
Step 3
Let the tea bath cool completely, about one hour.
Step 4
Submerge the test swatch in the tea bath and remove immediately. Rinse the test swatch under cold water and set it aside to dry. It will lighten as it dries, so wait to see what the final result is before dyeing the veil.
Step 5
Darken the color if necessary by repeating the dip and dry process until the desired shade is reached.
Step 6
Repeat the process with the whole veil once you are satisfied with the test swatch's results.
Step 7
Wash the dyed veil in mild detergent to set the color and hang to dry.
Tip
If the dyeing goes too far, you can remove the color with a stain-removing detergent. Just wash the fabric and try again with a diluted tea bath.
Do not try to dye antique fabrics. Go to a bridal shop or seamstress to have the job done by a professional.
Natural fabrics take dye better than synthetic materials. The test swatch will indicate whether the veil will respond well to dyeing.