Things You'll Need
Dress

Apron

Bobby pins

Wire-framed glasses

Basket

Hay

Plastic eggs

Fake chicken (optional)

Plush cat (optional)

Wire basket (optional)

Milk bottles (optional)

Straw hat (optional)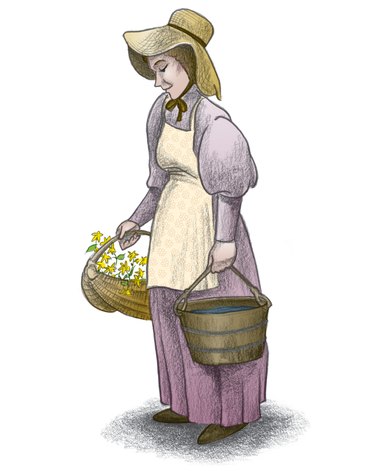 Whether you're creating a couples costume for a Halloween party, or you're little one is putting on a performance of "The Farmer in the Dell," making a farmer's wife costume is a fairly easy task. With a few simple items that you may already have in your closet, or that you can purchase inexpensively, you can transform yourself or a child into a country-styled lady who is ready to try her hand at farming.
Step 1
Dress in a floor-length, country-style dress. A dress that features small flowers, gingham or even a plain dress is ideal.
Step 2
Tie a long white apron around your waist.
Step 3
Pull your hair into a ponytail and wrap it into a bun on the top of your head. Use bobby pins to secure the bun. Alternatively, instead of wearing your hair in a bun, wear a straw hat.
Step 4
Put on a pair of round, wire-framed glasses.
Step 5
Fill a basket with hay and set plastic eggs on top. Carry the basket around with you as an accessory to the costume. Other accessory ideas for this costume include a fake rubber or plush chicken, a plush cat and a wire basket filled with milk bottles.
Tip
If you don't already own these items, you can located them in a thrift, costume or party shop.