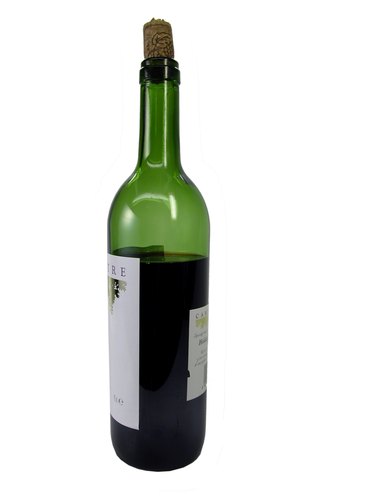 If you have ever spilled red wine on a white shirt then it should be no surprise to you that red wine can also be used to dye a shirt on purpose. Wine creates a rich, rosy patina. How dark it ends up depends on how long you let the fabric soak.
Step 1
Select a shirt to dye. Cotton, linen and other natural fibers take dye more easily than synthetic fibers such as polyester. White is the standard base color for dying, but you can also try colors that are complemented well by a reddish tinge. Try dying a blue shirt to create a purple wash, or a yellow shirt to create an orange hue.
Step 2
Select a wine to use as your dye. You will need approximately 2 gallons of wine to complete the project. Choose a wine which is deep red in color -- the specific vintage or type of wine does not matter. Don't waste an expensive wine on this project because a cheap bottle will work just as well.
Step 3
Pour the wine into a large stockpot. Place the pot on your stove over high heat and bring the wine up to a rolling boil. Reduce the heat to low, and allow the wine to simmer until reduced by one-third.
Step 4
Turn off the stove. Slowly lower the shirt into the wine, agitating lightly with a metal spoon to release any air bubbles.
Step 5
Soak the shirt for up to 24 hours, depending on your desired depth of stain. Agitate the mixture lightly every 4 to 5 hours.
Step 6
Remove the shirt from the wine. Wring it out lightly and hang it in a warm location until fully dry.
Warning
Because of the tendency of wine to transfer in the wash, wash your wine-dyed items separately for their first few cleanings.