Things You'll Need
String

Square spade

Hand tamper

Crushed rock

Landscape fabric

Metal edging

Hammer

Spreader bar

Block of wood

River rock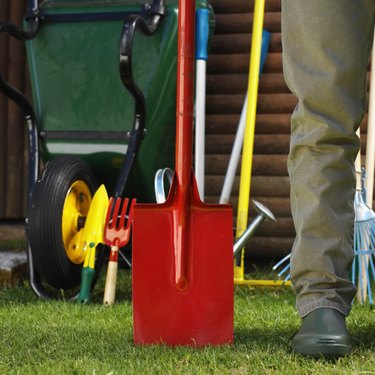 River stone is a smooth rock that is aesthetically pleasing. When used on a path it is durable, attractive and also gentle on the feet if you walk on it barefoot. River rock shifts a bit because it is so smooth, so it needs to be used on top of a more structured surface like crushed rock. The size of river rock varies from 3/8 inch to 2 1/2 inches. When it is very small it is also called pea gravel. River rock is usually gray or brown.
Step 1
Map out the path with string. Lay a length of string on each side of the path so you can see exactly where you want it to go.
Step 2
Dig out the path so it is 4 inches deep. Use your spade to make the sides straight and the bottom even. Smooth the bottom with a metal rake and compact it using a hand tamper.
Step 3
Fill the path with 2 1/2 inches of crushed rock. This acts as a base rock and won't move around as much as river rocks. Rake the path smooth.
Step 4
Spray the crushed rock with water and pound it down with a hand tamper until it is smooth and compacted.
Step 5
Unroll landscape fabric over the path with the shiny side up. Secure it with stakes if desired, but the edging will also help hold it in place.
Step 6
Lay the edging on either side of the path, using a spreader bar to keep it apart. Hammer it in place by holding a wood block over the top of the edging and tapping it down with the hammer. Follow the manufacturer's instructions when connecting the edging sections.
Step 7
Fill the path with river rock so that it is 1/2 inch from the top of the edging. Rake the gravel smooth.