Things You'll Need
Landscape paint or wooden stakes and string

Shovel

Landscape fabric

Metal spikes

Crushed rock

Crushed limestone

Flagstones

Level

Pea gravel

Low-growing plants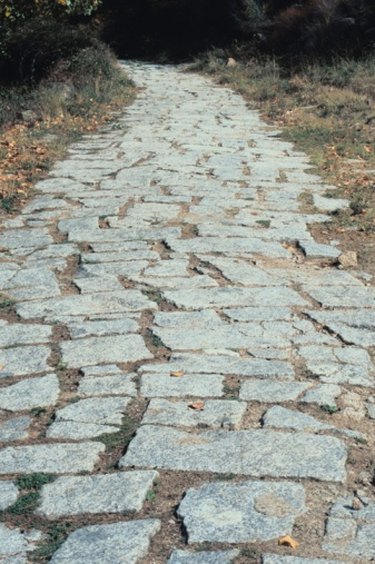 Flagstone is a strong, attractive hardscape material used for laying walkways, patios and edging gardens. You can use pea gravel between flagstones to inhibit weeds, and provide a comfortable walking surface between the larger stones. Pea gravel adds a subtle textural contrast and the same long-lasting strength and durability as flagstones. It comes in shades of gray, white and neutral color and blends seamlessly into a landscape.
Step 1
Outline the site where you want to lay flagstones with landscape paint or wooden stakes and a string. Measure the dimensions of the outline to make sure it's wide enough to serve its purpose. If you're installing a walkway, the width should be at least 4 feet to accommodate outdoor equipment and multiple people.
Step 2
Excavate the site to a depth of 8 inches and flatten the soil with a hand tamper. Lay landscape fabric over the soil and insert metal spikes every 4 feet to prevent weeds from growing through the pea gravel.
Step 3
Fill the site with crushed rock until the top is 2 inches from the surface. Tamp the surface down with the hand tamper and spread crushed limestone over the top.
Step 4
Place flagstones into the limestone according to your chosen pattern, in straight rows for a formal look or fitted like puzzle pieces for a more natural look. Set a water level on the flagstones and add more limestone beneath the stones to raise the level if necessary. Lay the largest flagstones first, and place smaller stones between large gaps.
Step 5
Pour pea gravel over the flagstone surface and press it into the spaces between the stones with a shop broom.
Step 6
Dig out the area along the flagstone walkway if you want to add a border of pea gravel or plants. Place landscape fabric over the surface and pour pea gravel over the fabric, or plant low-growing planys along the edge. Fill in holes around the roots with soil, and spread pea gravel around the plants instead of mulch.