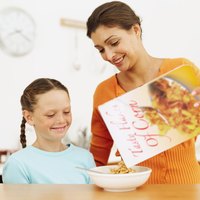 Cuboids are commonly found in everyday boxes. It is a rectangular cube with six flat rectangular faces where all the sides are at right angles. This is different than a cube where the length of each side is exactly the same. Most packages like cereal boxes and other mundane objects such as a chest of drawers are cuboids. To make your own cuboid model, craft one out of paper from a free online template.
Things You'll Need
Print out a template of a cuboid from a free website such as SEN Teacher or Paper Model of Polyhedra (see Resources). The websites offer free paper models of cuboids using regular printer paper.
Cut out the template with scissors. Be sure to keep the tabs intact. Those are the pieces that stick out of the sides of the cuboid. You will need them to glue the cuboid together.
Bend all the tabs of the cuboid so they are pointing up. Fold all the lines that are solid too, and then open it back up.
Fold the cuboid together. Be sure it has six sides or faces. Squeeze glue onto the tabs one by one to secure together.
Allow the glue to dry completely.