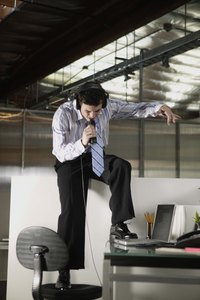 The annual Grammy Awards showcase the best musical talent in America. Recording artists vie for Grammys in various musical genres. Nominations are accepted by the National Academy of Recording Arts and Sciences, and then artists are selected, categorized and finally voted on by academy members. Only so many awards are available. The real Grammy trophies are made at Billings Artworks in Ridgway, Colo. But you can make your own at home, either for yourself or that deserving friend with the voice of an angel. You'll find everything you need at your local hobby store.
Things You'll Need
Toy gramophone
Gold leaf
Gilder's brush
Wood block
Wooden façade
Hand saw
Tacky glue
Plastic plaque
Etcher or marker
Get the component supplies to make your model gramophone. Find a suitably sized metal or plastic model gramophone to use for your mock award.
Cover the entire gramophone, except the bottom, with gold leaf, pressing it with your fingers. Use a flat stick or knife tip to press it into crevices. Overlap gold leaf edges slightly as you apply it to the model. Hide the edges and any tears by rubbing gold leaf onto the object and pressing it down firmly to blend. Use a specially made brush to finish sealing the gold leaf into place.
Fashion a wooden platform for the trophy. Get a block to use as the central portion of the base. Make sure it is proportionately large enough to hold the gramophone.
Cut and trim the wood façade to fit over the sides and the top of the block. Get prestained façade, or use paint or wood stain to get the desired effect.
Secure the base of the gramophone to the wooden block using tacky glue or other appropriate adhesive.
Write a mock up for the name and description on your trophy. Include the name of the intended recipient, the name of the award, genre of music, and the date awarded. Add a memorable quote, if desired.
Create a name plate for your award. Get a flat piece of black plastic just large enough to fit onto one side of the base. Use a power etcher to draw the words onto the plaque, or write with a permanent marker. Attach the plaque to the base using tacky glue.