Things You'll Need
14-inch by 32-inch piece of fabric

Iron

Sewing machine

Thread

2 18-inch lengths of satin ribbon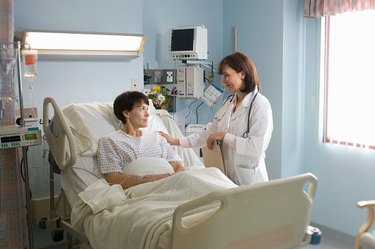 A vast array of medical conditions can inhibit an individual's ability to use the restroom and lead to the need for a catheter. Catheters work by allowing users to empty their bladder without having to use a toilet. Instead, urine is directed from the bladder and into a clear, heavy-duty plastic bag through a length of tubing. However, catheter bags hanging from wheelchairs or bedsides are a source of embarrassment for some users. Fortunately, catheter bag covers can be crafted with a stylish fabric to make urine collection more discreet.
Step 1
Cut a piece of fabric to 14 inches wide by 32 inches long. Lay the fabric on a flat surface and fold both narrow ends to create a pouch for the hanger ribbon to slide through. Fold over one inch at the bottom of the fabric and iron flat. Fold over the ironed section once more and iron the seam flat again.
Step 2
Sew a seam 1/4 inch above the bottom of the ironed folds to secure the folded flaps in place and create a slot that the ribbon can be fed through.
Step 3
Fold the entire piece of fabric in half lengthwise, with the pattern facing inward. Sew a 1/4-inch seam up both sides of the fabric, securing both halves together to create a bag. Stop the seam approximately 1/4 inch below the openings of the ribbon slots to avoid sewing the ends of the slots closed.
Step 4
Reach your hand inside the bag and turn the bag right side out so the pattern shows on the exterior.
Step 5
Cut two pieces of a coordinating-color ribbon, or a sturdy cord, to 18 inches long. Slide each piece of ribbon or cord through the slots at the top of the bag until an equal length extends from both sides. Use the ribbons to tie the catheter bag cover to the side of hospital beds, wheelchairs or anywhere else that catheter users need to discreetly store a urine collection bag.