Things You'll Need
Fleece fabric

Sewing shears

Tape measure

Straight pins

Fabric chalk

Sewing machine

Thread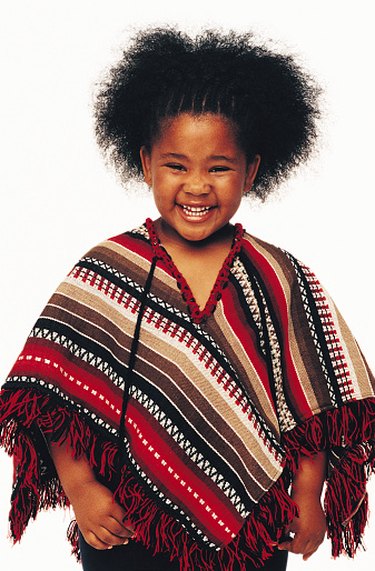 Make a rectangular poncho using two equally sized rectangles of fabric. With straight, simple cuts and no fitting, a rectangular poncho is a garment that is easy to make and easy to care for. When made with fleece, it requires no hemming or finishing of the neckline. Hems do not require sewing and may be hand fringed. Once complete, trim your rectangular poncho with appliques, beads or other embellishments.
Step 1
Cut one yard of fleece to form a rectangle measuring 26 by 36 inches to make a rectangular poncho that measures 26 inches from the neck to the outstretched fingertips. This is an adult-sized measurement. For kids, measure from the neck to where you want the length for an outstretched arm and adjust.
Step 2
Line the two rectangles up with the short end of one piece slightly overlapping the bottom long edge of the other. It will look like a large letter "L." Pin these two edges together and stitch.
Step 3
Turn the fabric over and line up the short end of the first rectangle to the long straight end of the second piece, meeting at the bottom edge. Line them up and slightly overlap the two pieces, allowing room to stitch. Pin the edges together and stitch.
Tip
To fringe the poncho, before pinning and stitching, cut 1/2-inch-wide strips 3 inches into the short ends of the rectangles. Alternatively, cut the fringes along the long sides of the rectangles.
To use a fabric other than fleece, adjust the sizes of the rectangles to allow for a finished seam and hem on all edges of the fabric.