Things You'll Need
G crochet hook

Scissors

Yarn needle

30 oz. yarn, worsted or sport weight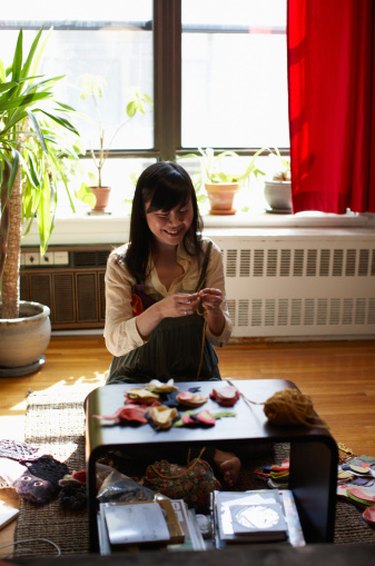 Crochet is an art form that uses a small hook to pull up and interweave loops of yarn to create decorative fabrics. A simple afghan, or crochet blanket, can be made from crochet "granny squares." Granny squares were invented to prevent waste; scrap yarn was used to make the squares to create a rainbow-colored blanket. A granny square uses two basic crochet stitches to create a small square. Squares are stitched together to make a final blanket as large or small as you want. This pattern will yield a lap robe or crib-sized blanket, but adding squares will expand the blankets dimensions.
Step 1
Tie a slip knot on the hook and slide it down the neck of the crochet hook about 1/2 inch. This will give you a starting loop on the hook.
Step 2
Chain four. Put two double crochets in the fourth chain from the hook. The three skipped chains count as a third double crochet. Together they form a cluster of three double crochet.
Step 3
Chain one. Put three double crochet in the same chain as the first double-crochet cluster. Repeat this two more times so that you have four clusters, separated by a chain one space.
Step 4
Join the ring by slip-stitch to the first double crochet. This ends Round 1. You should have 12 double crochets broken into four clusters, separated by chain-one spaces.
Step 5
Chain three. This counts as the first double crochet in Round 2. Double crochet in the next two stitches to create a cluster of three double crochets.
Step 6
Double crochet, chain three and double crochet in the chain-one space. This will form the corner of your block.
Step 7
Double crochet in next three double crochets, then form a second corner. Repeat this pattern four times to form four sides and four corners.
Step 8
Join with a slip-stitch in the first double crochet and finish off. To finish off, chain one and pull the clipped tail through the loop, pull the tail down tight to create a knot.
Step 9
Repeat these steps to create a total of 280 granny squares.
Step 10
Whip-stitch the squares together with a yarn needle and yarn in the same color as one of the blocks you are stitching together to form rows. Stitch 20 squares together for Row 1.
Step 11
Continue whip-stitching blocks together until the full afghan is constructed. Weave all exposed yarn ends into the afghan so that they are no longer visible.