Things You'll Need
Disposable yellow coveralls

Scissors

3-inch black vinyl capital lettering

Measuring tape

Black duct tape

Black t-shirt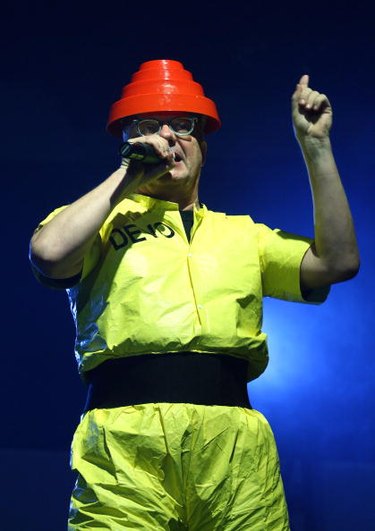 The members of Devo, the legendary Ohio-based band, have worn many different uniforms, but yellow jumpsuits stand out as their trademark look. The yellow suits go back to their 1978 debut album "Q: Are We Not Men? A: We Are Devo!" and would later be seen paired with another Devo trademark: the red "Energy Dome" hat. The simplest and most economical way to make a Devo jumpsuit for a Halloween costume is to start at a safety supply store, not a fabric store.
Step 1
Cut the collar off of a pair of disposable yellow coveralls. The sleeves can be either short sleeved or long sleeved; Devo has worn them both ways. For short sleeves, cut the coverall sleeves off at the elbow and fold them under to make a neat hem. Secure the edge with duct tape on the inside of the sleeve.
Step 2
Apply 3-inch black vinyl capital lettering to spell out "DEVO" on the right side of the front of the suit. It will be your left side as you face it. The letters should be placed slightly on a downward diagonal.
Step 3
Measure your waist. Lay two strips of black duct tape the same length plus 2 inches so that they overlap about 1/2 inch on the lengthwise sides.
Step 4
Cut two more strips of duct tape in the same length as the first two. Lay the second strips over the first strips so that the sticky sides touch, making a black belt that is black on both sides.
Step 5
Put on the jumpsuit over a black T-shirt. Wrap the duct tape belt around your waist, securing the ends together with a 2-inch piece of duct tape.
Tip
Find yellow protective coveralls for under $15 at laboratory safety supply retail outlets in town on online.
Purchase a plastic "Energy Dome" stacked-cylinders hat to complete your outfit on Devo's official web site.