Things You'll Need
Cheese grater

Plastic containers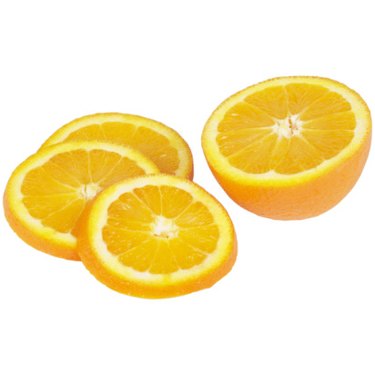 Orange slices only remain fresh for a few hours after peeling, so enjoy oranges soon after removing the rind. If you don't eat the oranges, follow specific guidelines to store them in the fridge or freezer for later use. Refrigerated orange slices can keep for several days and frozen slices last for months. The Sunkist website says not to freeze whole oranges, but you can freeze slices or grated peels to use for orange zest later on.
Step 1
Grate orange zest from the peel of the orange with a cheese grater first, if you plan on using zest for recipes now or later on. Place zest in plastic bags and store in the fridge for use within one week. Keep these bags in the freezer, if you plan on using the zest for future recipes in the upcoming months. It's always easier to remove zest from a whole orange rather than peeled rinds. Skip this step if you don't plan on using the zest at all. Only grate lightly, so the majority of the peal still remains intact.
Step 2
Peel the entire orange and discard what's left of the peel or put it in your compost bin.
Step 3
Eat the orange slices right away or place them in plastic containers for later use.
Step 4
Place packaged orange slices in the fridge, if you plan on enjoying them within one week. Whole, unpeeled oranges can stay fresh in the refrigerator for two weeks, so you might want to keep most of your orange peels in tact until you know you are ready to enjoy them.
Step 5
Place the containers containing the slices in the freezer if you want to eat the orange slices within the next seven months.