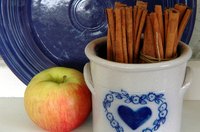 Whether you are planning to make some jars of potpourri for gift giving or simply to fill your home with spicy goodness, the sweet smell of baked apples along with the woody scent of cinnamon will be a winning combination. Making apple cinnamon potpourri is fairly easy and quite inexpensive, yet the results can be very rewarding. The best part of all is that you will be using only natural ingredients, which very likely you already have on hand.
Things You'll Need
1 red apple
1/2 cup carnation petals
1 cinnamon stick
1 whole nutmeg
1 tbsp. whole cloves
1 orange
3 drops of cinnamon-scented oil
Acorns
Small pine cones
Cookie sheet
Nutmeg grater
Glass jar
Ribbons for decorating
Preheat the oven at 150 degrees. Slice the apple paper thin and place on the cookie sheet in a single layer. Cook for half an hour.

Peel the orange and cut the peel into long thin slices. Grate the whole nutmeg until you get about half a tablespoon. Break the cinnamon stick into pieces.
Mix the apple slices, orange peel, grated nutmeg and fragments of cinnamon stick along with all the remaining ingredients. Place in a glass jar.
Tighten the glass jar. Store the jar in a dark, cool place. Decorate the jar with ribbons if you are planning to give as a gift.