Things You'll Need
Blonde wig (optional)

2 pink hair scrunchies

Headset

Pink baby doll dress

White knee high boots or platform shoes

Lollipop

Pink eye shadow, lipstick

Body glitter
Baby Spice was a member of the pop singing group the Spice Girls. Hailing from England, the Spice Girls all had their own identity; Posh was high fashion, Sporty was athletic, Ginger was a redhead, Scary was aggressive and Baby was girlish. Dressing as a Spice Girl does not require a store-bought costume. You can generally find most of what you need for your Baby Spice costume at home or in a thrift store.
Step 1
Wear a blond wig if your hair isn't blond. Use matching pink scrunchies to put your hairstyle into pigtails.
Step 2
Find a pink baby doll dress. Baby doll styles are short with the hem above the knee. The full skirt starts just below the breast and it should flare. The fancier the dress the better. Look for dresses with jewel embellishments or sequins.
Step 3
Pair your dress with either white knee high boots or white platform high heels.
Step 4
Accessorize your Baby Spice costume with a headset to show you are a singer. Baby Spice also carries a large lollipop.
Step 5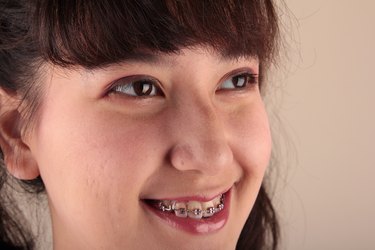 Apply make-up. Use pink shadow and lipstick. Use lots of glitter.