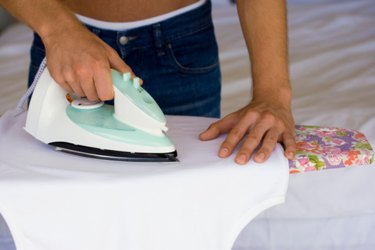 Starch is made from wheat, used to stiffen clothes to give them a crisp look. People send their clothes to be dry cleaned for a neat look, but you can starch your clothes at home yourself. For silks, the best option is liquid starch. You can adjust the amount of starch to alter the effect on the clothes. Spray starch can also be used but its not advisable as it leaves white starch spots on silk.
Things You'll Need
Spray Bottle

Liquid Starch

Iron
Step 1
Mix liquid starch with water in the spray bottle according to instructions on the bottle. Adjust the amount of liquid starch according to how stiff you want the silk to be. Usually 1/2 of the mixture is starch. Mix thoroughly or white spots will appear on the clothing.
Step 2
Spray the silk with the starch mixture. Apply an even coat so that it is soaked in starch. Wring the cloth to discard the excess.
Step 3
Place the cloth on a flat surface. Let it dry until its damp-dry. To speed up the process use a hair dryer.
Step 4
Put the iron in steam mode. Turn the cloth inside out so that white spots aren't formed. Iron it in the usual manner.
Tip
To make your own starch mix 1/4 cup corn starch with 1/2 cup cold water. Mix in 4 cups of boiling water and chill the mixture.
Always shake the mixture before use.
Keep pressing in an up and down motion for the clothing to retain its shape. Do not let the iron sit on the clothing as the starch will cause it to burn.
Put a thick cloth on the ironing board to prevent brown spots forming on the board.