Things You'll Need
50 Popsicle sticks

Nail scissors

2 small eye hooks

2 pieces of fishing line, 6-12 inches in length

Beads

Fishing spinner

Small fishing weight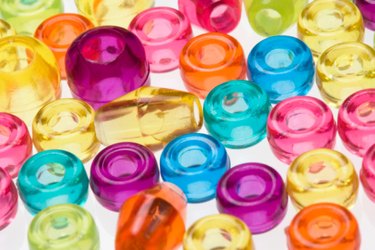 Popsicle sticks have long been a favorite crafting material for kids and the young at heart. Inexpensive and versatile, these sticks can make doll houses for little girls or drink coasters to dress up coffee tables. A wind spinner is a simple craft item you can create with a supply of Popsicle sticks and a few additional items. A Popsicle stick wind spinner looks especially nice twisting in the wind due to the spiral motion it creates.
Step 1
Put three dots of glue on a Popsicle stick, one in the middle and one on each end. Place another stick on top of the glue. Continue this until you have glued 10 sticks together.
Step 2
Fan the 10 Popsicle sticks out from the center very gently. Set aside and let dry.
Step 3
Repeat this process with 40 more Popsicle sticks, making stacks of 10, then fanning them out and letting them dry.
Step 4
Take one of your fanned Popsicle stick stacks and place three dots of glue on the top stick as you did earlier. Glue a second set of 10 fanned sticks on top. Continue this until you have glued all five sets of fanned sticks together, moving up in a spiral direction.
Step 5
Lean your project on something sturdy so it will not fall apart. Let sit for half an hour or until the glue is completely dry.
Step 6
Make a small hole in the center of the top Popsicle stick with nail scissors. Screw in an eye hook. Repeat this with the bottom of your spinner.
Step 7
Securely tie one end of the fishing line to the top eye hook. Thread beads onto the line, leaving about an inch at the top. Tie this end onto one end of a fishing spinner with a sturdy knot.
Step 8
Tie and bead the second piece of fishing line to the bottom eye hook. Tie the bottom end of the beaded fishing line to a fishing weight.
Tip
If using wood-tone Popsicle sticks, paint each stick and let dry before starting this project. Alternating several colors in a pattern is one way to put your sticks together.
Warning
Children should have adult assistance when using nail scissors.