Things You'll Need
Newspaper

Paperweights

Stencil

Permanent marker

Washable fabric paint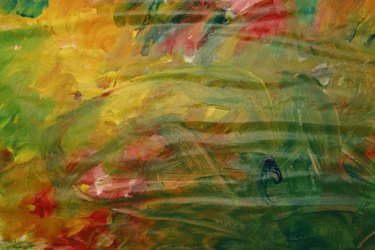 When it comes to personalizing blankets and throws, nothing compares to the individuality of inscribing initials or even thoughtful messages onto their surfaces. In addition to inscribing words and phrases, you can also choose to include one-of-a-kind designs or embellish the fleece's surface with freehand drawings for extra flair. Though the process of writing on fleece is a simple one, it can lend a lot of originality to whatever article you are decorating, making such an item an ideal gift or even a fun decoration for yourself.
Step 1
Prewash your fleece before beginning. This helps to contract the fabric, giving you a smoother surface with which to work. It also helps clear away any factory chemicals lingering on the material's surface.
Step 2
Lay your fleece on top of newspaper to keep the applied color from bleeding though the material and onto any surfaces below. Using paperweights, anchor the area on which you intend to write so the surface is as flat as possible. This will prevent excess movement later.
Step 3
Place your stencil down onto the fleece and trace the first letter you wish to write. You may do this using either permanent marker or fabric paint. However, remember that permanent marker may require a second coat in order to appear dark enough on the fleece's surface.
Step 4
Record your entire message using the medium of your choice and remove the stencil. Touch up any thin or uneven surfaces.
Step 5
Allow the writing to dry for at least 24 hours before using the fleece. Do not wash the fabric again for at least three days.
Tip
To care for material enhanced with fabric paint, remember to read the care instructions on the paint's bottle.