Things You'll Need
Seashells

Card stock

Pencil

Scissors

Hot-glue gun

Sand

Earring clips

Tweezers

Cement glue

Foam ball

Wire

String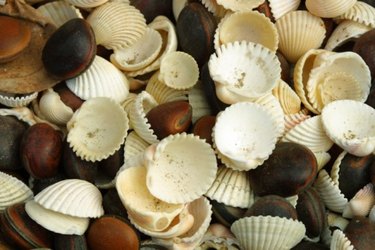 Make homemade crafts to give as gifts or keep for yourself using seashells. You may use seashells you collected from the beach and that have been washed and dried, or purchase bags of seashells at a local crafts store. Either way, you will have a creative project using a variety of colors and sizes of seashells. Make a beach-themed decor item for the summer, or a seashell-themed holiday gift.
Seashell Crown
Step 1
Draw a crown shape onto card stock, large enough to fit around the head of the person who will be wearing it. Once you are satisfied with the design, cut the crown out.
Step 2
Cover a small section of the crown with glue and attach seashells to this section. The placement you choose is up to you; it may be random or uniform according to the color or shape of the seashells. Once complete, move on to a new section of the crown using the same method of gluing and attaching seashells.
Step 3
Sprinkle sand into the empty spaces between shells while the glue is still wet. Allow the glue to dry. Wrap the finished crown around the person's head and tape it securely.
Seashell Earrings
Step 1
Lay two similarly sized seashells face down on a flat surface.
Step 2
Squeeze a small amount of glue onto the back of each seashell, near the center of the shell.
Step 3
Place the pad (the flat side) of an earring clip on top of the spot of glue, and press firmly. Repeat this process for the second earring, allowing each to dry before wearing them.
Seashell Ornament
Step 1
Fold your piece of wire in half to form a loop; this will allow you to hang your ornament on a tree. Apply glue to both ends of the wire, opposite of the loop side, and insert into the foam ball. Leave about an inch of loop sticking out of the ornament.
Step 2
Attach seashells to the foam ball one by one, covering the ball of each shell with glue and pressing it firmly onto the foam ball. The hot-glue gun will work best, but if children are doing this part, give them a strong craft glue instead of the hot-glue gun. Set aside to dry for about 15 to 20 minutes.
Step 3
Cut off a piece of string long enough to make an ornament hanger. Wrap the string through the wire loop you previously made, and tie it at the top. The ornament is now ready to be hung.
Tip
Add sparkle to the seashell crown by sprinkling glitter in any empty spaces while the glue is still wet.
Warning
Be careful not to burn yourself when using the hot-glue gun.