Things You'll Need
Uniform shirt or jacket

Thread

Needle or sewing machine

Straight pins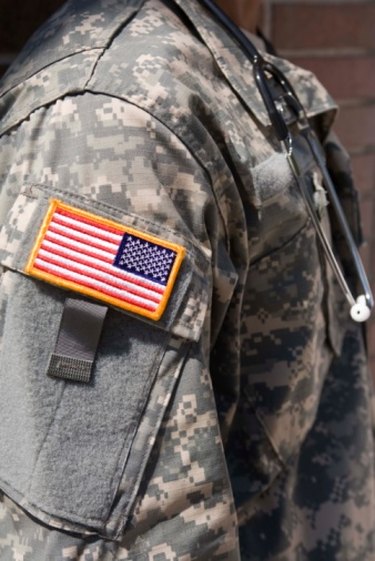 Military nametapes are worn by the Army, Navy, Air Force, Coast Guard and Marine Corps on daily working uniforms and flightsuits. Nametapes are required to be sewn to most uniforms; the Army is transitioning to hook-and-loop adhesive nametapes, but the backing still must be sewn to the uniform. The cost of seamstress services is prohibitive to some military members; sewing your own nametapes is a time-consuming process for the beginner, but takes less time with practice.
Step 1
Check the uniform regulation or instruction for your branch of the military to determine correct placement for your nametape. You can locate this instruction at your ubit's orderly room, or on your service's web portal. As a general rule, nametapes are worn on the right side of the shirt or jacket, just above the breast or pocket.
Step 2
Thread the needle or sewing machine. Use thread the same color or a shade lighter than the background color of the nametape.
Step 3
Position the nametape on the shirt or jacket. Use straight pins to hold the nametape in place while you sew it on.
Step 4
Sew the nametape on, beginning along the bottom edge. A chain-stitch is the best stitch for this task. Hold the nametape taut so no wrinkles are sewn in, and no stitches are missed or doubled-up.
Step 5
Sew around the corners until all four sides of the nametape have been sewn to the jacket or shirt. Stitch backward three to five stitches to hold the stitches in place, then snip the excess thread off with scissors.
Tip
While the Army no longer sews nametapes directly to the ACU (Army Combat Uniform), the same technique applies for sewing the velcro strips to the ACU to attach nametapes to.