Things You'll Need
Large silk scarf

Medium sized bowl

Glue fun

Hot glue

Artificial fruit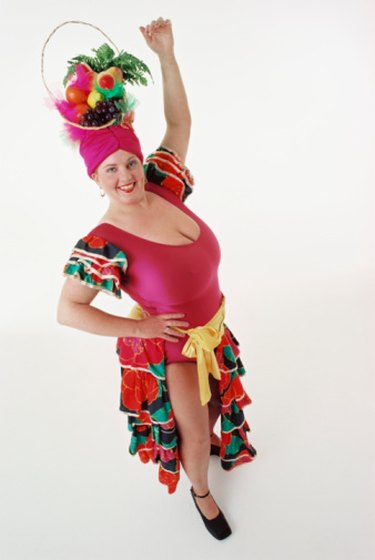 Carmen Miranda's signature fruit hat from the movie, The Gang's All Here, is one of the most popular accessories to modern conga costumes. Adults and kids alike dress up in ruffled costume wear, and don all sorts of variations of the infamous turban style hat. This fun and vibrant accessory can be made from a silk or satin scarf and artificial fruit. Serving as a bowl for the fruit to sit in and build upon, the turban is tied from a few simple twists and knots, and the fruit applied with basic hot glue.
Tying the Turban
Step 1
Fold scarf in half so it looks like a triangle.
Step 2
Place the triangle on top of your head, with the straight edge at the back of your head. The three points of the triangle will fall toward each shoulder and the front of your face.
Step 3
Grabbing the side points of the triangle, pull the points toward the front of the head, knotting the ends snugly to your forehead once.
Step 4
Wrap the points back around the head to the back of the neck. Tie the ends in a double knot and tuck the ends underneath the back of the turban.
Step 5
Roll the front point up and over the single knot and tuck the end underneath the knot.
Adding the Fruit
Step 1
Remove the tied turban from the head. Place it over a medium-sized bowl to maintain its shape.
Step 2
Apply hot glue to the back and undersides of a fruit piece. Curving the sides of the turban, adhere the fruit to the bowl-like center of the turban.
Step 3
Repeat the gluing process for each fruit piece, filling the center of the turban with overlaping fruit. The turban top should resemble an overflowing fruit bowl. Let dry completely.