Things You'll Need
4-inch-by-6-inch black gift box with lid

1/4-inch black packing foam

2 white pipe cleaners

Black construction paper

Cardboard

White paper

Black marker

Scissors

Tape

Glue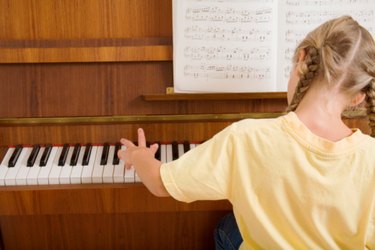 A piano is a beautiful instrument to listen to and to look at. Pianos come in all different shapes and sizes, ranging from very small upright pianos to big concert grand pianos. With just a few craft supplies, you can create your own model piano out of cardboard. Use this as an art project for children, or display your finished piano model as a centerpiece or during special events and occasions.
Step 1
Cut a strip of white paper that is 1 by 8 inches long. Draw some musical notation scripture on the strip moving lengthwise down to the end.
Step 2
Take one end of the strip of paper and attach it to the center of a white pipe cleaner with some tape. The ends of the pipe cleaner should be sticking out on each end of the strip. Repeat this with the other end of the strip and another white pipe cleaner.
Step 3
Roll up the strip of paper from the back of it using the pipe cleaner on one end. Do this on the other end as well. You should have two ends rolled up and 1 1/2 inches of musical notation showing still on the front.
Step 4
Trace the lid of a cardboard box onto some black construction paper. Cut out the tracing and then cut out a square hole that is 1 by 1 ½ inches and centered an inch from the top of the construction paper.
Step 5
Attach the pipe cleaners from the strip of paper so that the musical notation scripture is positioned to be seen through the hole in the construction paper. Secure the pipe cleaners to the construction paper with tape.
Step 6
Remove the lid from the cardboard box. Tape the construction paper to the front of the cardboard box.
Step 7
Take the lid from the cardboard box and cut a 1- by 6-inch section from the width of the box. Use tape to attach the piece of the lid to the construction paper underneath the music scripture to represent the keyboard of the piano.
Step 8
Cut two pieces of black foam that are 2 inches by 1/4 of an inch long and attach them to each side of the keyboard to represent the piano's legs.
Tip
Create a piano stool from some extra cardboard or black foam to complement your model piano.