Things You'll Need
Front fabric

Back fabric

Batting (optional)

Scissors

Pins

Sewing machine

Thread

Knitting needle (optional)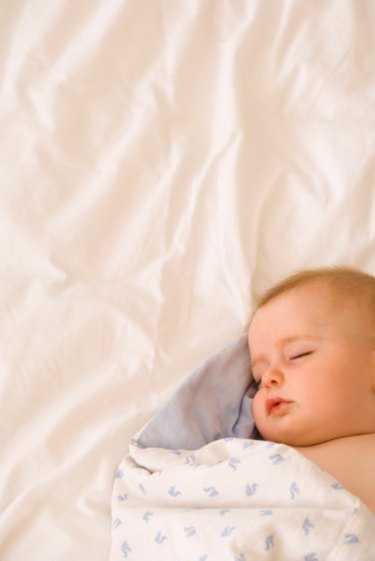 Sewing a backing onto a blanket is necessary if you are making almost any type of blanket. Fleece blankets do not require a backing fabric because they are a two-way fabric, meaning they look the same from both sides. Other fabrics have a right and wrong side. When creating a blanket, decide what you'd like for the front and back sides. The front side could be a quilted piece. The back can also be anything you want. You can also add batting if you want to make the blanket thicker or heavier.
Step 1
Cut your front and back fabric to the same size. If the front is a quilt and already pieced, cut the back fabric to fit.
Step 2
Cut a piece of batting the same size as the blanket. This will add some thickness to the blanket. If you don't want it to be thick, you may omit it.
Step 3
Lay the batting on the table. Lay the backing on top of the batting, right side facing up. Lay the front of the blanket on the very top, right side facing down. These layers form your blanket sandwich.
Step 4
Pin the three layers together around the edges. Ensure that all the layers are smooth and even.
Step 5
Sew a 1/4-inch seam around the edges, taking out the pins as you get to them. Leave an opening of 3 or 4 inches. Backstitch at the beginning and end of your seam.
Step 6
Trim the seams close to your stitching, being sure not to cut your stitches. Trim the corners as well.
Step 7
Turn the blanket right side out through the opening you left. Poke the corners out with your fingers or a long knitting needle.
Step 8
Fold the opening edges in and pin them down. Sew a seam around the entire blanket edge, 1/4 inch away. Not only will this stitching make the edges lay flat and crisp, but it closes up the opening as well.