Reproduction print paintings are a way for people to own works of art at an affordable price. The two types of reproduction print paintings are the hand-painted reproduction and the canvas-print reproduction. The hand-painted reproduction will look and feel as close to the original as possible, without being an exact replica. The canvas-print reproduction is an exact duplicate of the original. It is printed out on canvas by a computer and high-speed printer using a process call Giclee. Care should be taken to keep a reproduction painting clean.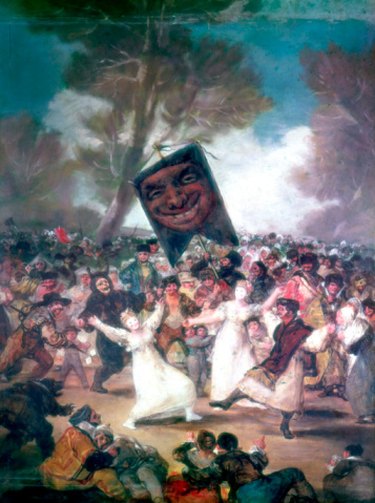 Things You'll Need
Baby Toothbrush Or Shaving Cream Brush

Warm Water

Cloth

Fiber Cloth

Soap

Container

Latex Gloves

Solvent

Cotton Swabs
Hand Painted Reproduction
Step 1
Remove the painting from the wall.
Step 2
Brush the surface of the painting with a shaving cream brush or baby brush. This will remove any surface dust.
Step 3
Mix soap and warm water in a container.
Step 4
Dampen a clean fiber cloth in the soap and warm water.
Step 5
Wipe the surface of the painting lightly with the dampened cloth. Avoid any water dripping on the painting. Don't rub or scrub the painting, as this will damage it.
Canvas Print
Step 1
Remove the painting from the wall.
Step 2
Tap the back of the painting lightly to remove any build up of dust on the surface.
Step 3
Dampen a clean cloth with warm water.
Step 4
Place your hand underneath the canvas to support it.
Step 5
Wipe the surface of the canvas gently with the damp cloth. Do not apply too much pressure.
Tip
If cleaning a hand-painted reproduction, check the condition of the paint. If the varnish is aged, apply a solvent to it. You will find solvent at an art shop. Apply the solvent with a cotton swab and be careful not to damage the painting. If the painting holds personal value, have a professional clean it.