Things You'll Need
Card stock

Pencil

Scissors

Felt

Stuffing

Needle

Thread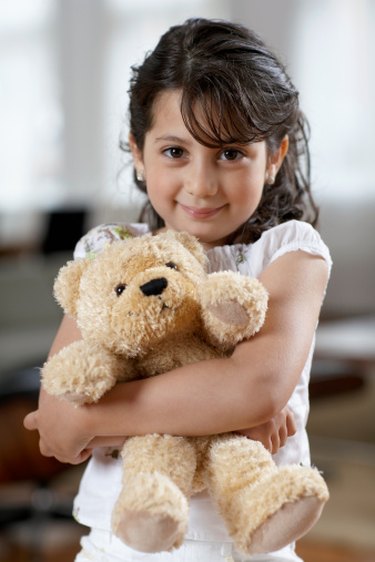 When making stuffed animals, sewing a nose so that it looks just right can be difficult. Stuffed teddy bears with funny looking noses just are not right. However, if you know a few tips and tricks to forming, shaping and sewing the bear's nose, it will be perfect every time. Making a template that you can use each time you sew a teddy bear is best. Create different templates for bears with different size noses. Save the templates with your teddy bear pattern collection.
Step 1
Draw a rounded triangle shape on the card stock. Draw the triangle so that it is about 2 inches in diameter.
Step 2
Cut out the triangle shape. Hold the triangle so that one of the sides is across the top. Cut 1/4-inch notches 1/4-inch below the top edge at the opposite corners of the triangle.
Step 3
Use the the template to cut out the piece for the nose from the felt fabric.
Step 4
Sew the sides of the nose together at the notches. Stitch the two sides of the notches together to give the nose its shape.
Step 5
Fill the nose with as much stuffing as you can. Place the nose piece on the face of the bear. Stitch around two sides of the nose to hold it in place using the needle and thread.
Step 6
Stuff the nose with more stuffing to make it as full as possible. Arrange the nose to give it a perfect shape. Stitch the remaining side closed.
Step 7
Use black or another contrasting color to outline the nose. Stitch around just the edge of the nose to create dimension.
Tip
If you want to cover the felt by sewing, thread a needle with embroidery or pearl thread and sew a satin stitch. A satin stitch will completely cover the nose with long stitches of the thread. Use a long 6-inch needle for easier sewing from the bottom to the top of the nose. Stitch the thread as close together as possible. Go over the nose again until the felt is completely covered.
Practice with making a template until you get a nose for a teddy bear that you like best. Start with the basic round triangle template and adjust it as necessary.