Things You'll Need
Thread (optional)

Needle (optional)

Scissors

Elastic or ribbon

Bodice or corset (halter top, if you prefer)

Tulle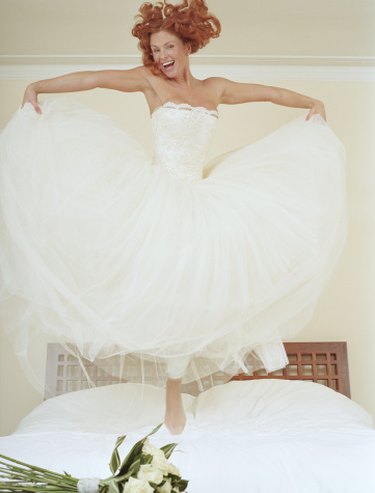 A tutu gown is a ballet-inspired dress. With the appropriate materials available, a tutu gown is relatively simple to create. The top of the gown should have a bodice or corset in any color you prefer. This gives the body shape and adds fullness to tutu skirt.The tulle can be in any matching or complementary color to the gown. The project requires little to no sewing. This dress is perfect for a prom gown, sweet 16th birthday party dress or a wedding gown.
Step 1
Purchase a bodice, corset or similar top for the gown. Corsets can be challenging to make and that often costs as much as it does to buy them in stores or online. You can find corsets available in a variety of colors and styles. If you prefer a bodice or similar form-fitting top, select one that has a formal appearance because this is the top of the gown.
Step 2
Measure ribbon or elastic of the waist area directly beneath the bodice or corset. This forms the waist of the gown and determines the measurements for the tutu. Cut the elastic to the exact size of the waist. Cut about three inches longer than the waist if using ribbon.
Step 3
Cut tulle in strips. The strips should be double the length of the gown's skirt. For example, if you want an ankle length gown, double the measurement from the ankle to the waist to calculate the length of needed tulle. Keep the width of the tulle to between 4 and 6 inches.
Step 4
Pull the tutu over the ribbon or elastic until they meet the center of the tulle. Tie each strip of tulle in a knot around the ribbon or elastic. Repeat until the ribbon or elastic is covered in tulle.
Step 5
Attach the tutu skirt to the bodice or corset to create a gown. Sew the tutu inside the corset or bodice to create the look of a gown. Attach the skirt without sewing by pulling the tutu skirt up over the bodice and securing with a silk ribbon and a fancy broach.