Things You'll Need
Flannel fabric, 1 yard

Scissors

Iron

Ironing board

Straight pins

Sewing machine

Thread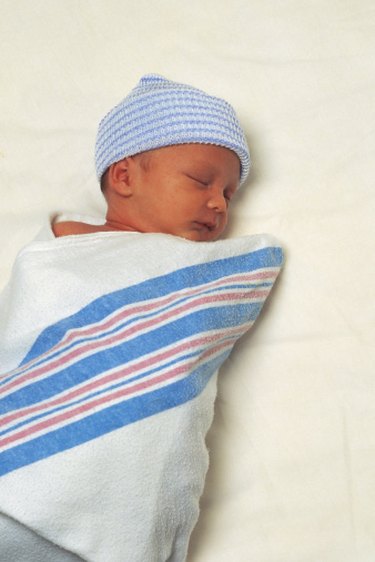 You don't need to sew like an expert to make a receiving blanket for your baby or as a gift for an expectant mother. Handmade gifts show the mother how much you care and they also save you money. You can generally buy the fabric on sale for less than a commercially-made receiving blanket would cost.
Step 1
Lay out one yard of flannel fabric on the table. Cut off the selvage edge of the fabric and straighten out the four cut edges to make them even.
Step 2
Place the blanket on an ironing board. Fold over one edge of the blanket by 1/4 inch and press down. Repeat on the opposite side of the blanket, and then fold the other two sides in and press them as well. When you do the second two sides, fold them so the corners go over the initial folds you made.
Step 3
Go back around the blanket in the same order and again fold in each edge by 1/4 inch. This will hide the cut edges of the fabric within the folds. Use straight pins all around the perimeter of the blanket to hold your folds in place.
Step 4
Put the blanket in your sewing machine with the wrong side up. Line up your presser foot and sew a straight seam as close to the folded edges of the fabric as possible. Sew your seam all the way around the four sides of the blanket.
Step 5
Remove the blanket from the sewing machine and turn it over so the right side of the fabric faces up. Put the blanket back through the sewing machine and make a zigzag or other decorative stitch over top of the straight stitching from Step 4. Cut any loose threads at the end and the blanket is ready to use.