Things You'll Need
Full-length purple dress

Long-sleeved purple T-shirt

Blue skirt

Batting

Light purple fabric

Model clay

Ribbon

Blond wig

Scissors

Sewing machine

Fabric glue

Pins

Thread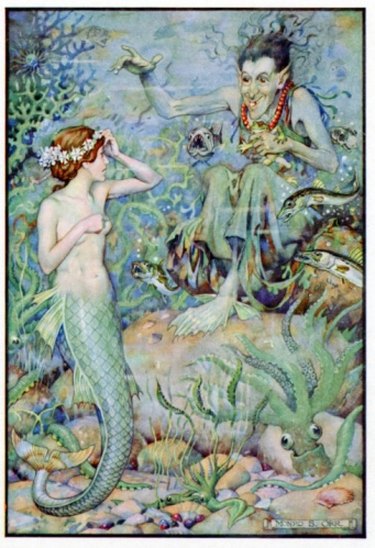 Ursula the sea witch was the primary antagonist in the 1989 Disney movie The Little Mermaid. Ursula was a buxom octopus-like character who would use trickery to get what she wanted from unsuspecting sea creatures. Creating an Ursula costume from purple clothing found at thrift stores can provide you with a quick and easy Halloween costume. This costume is also great for children and plus-size adults.
Step 1
Put on the full-length dress and mark where the dress hits just below your hip. This is where your tentacles will begin. Take off the dress and turn it wrong side out. Cut the dress into eight strips from the bottom to the mark you made just below your hip. These will become your tentacles.
Step 2
Create a tube with each tentacle strip by sewing the bottom together and then attaching each end. Sew all the way up to the top of dress, leaving a small opening to put the batting in.
Step 3
Cut circles about an inch in diameter from the light purple fabric. These will be the suckers of the tentacles. There will probably be about 10 suckers for each tentacle, though this number will vary based on where you place them and how long your tentacles are. Hot glue the circles in a line along the back of the tentacles all the way up to the upper portion of the dress.
Step 4
Fill the tentacles with batting, then sew them shut across the top portion of the dress where the tentacles begin.
Step 5
Cut the top portion of the dress across at the arm holes so it looks like a tube top. Ursula's tentacles began at her chest and the rest of her upper portion was exposed as purple skin. Pin and sew the top portion of the dress to the long-sleeve purple T-shirt. This will give you the impression of having purple skin like Ursula.
Step 6
Create the seashell necklace where Ursula kept Ariel's voice with modeling clay. Take a large piece of yellow clay and roll it out lengthwise. Then begin at one side and roll the in toward the other end to mimic the appearance of a shell. Let the clay harden and then hot glue a ribbon to it to be worn as a necklace.
Step 7
Wear a long blue skirt underneath the tentacles to simulate the water underneath you. Wear a blond wig and purple make-up on your face to complete the costume.