Things You'll Need
Dapping block

Rawhide or plastic mallet

Sterling silver brooch

Torch

Flint striker

Fireproof brick

Pickle solution

Copper tongs

Rawhide mallet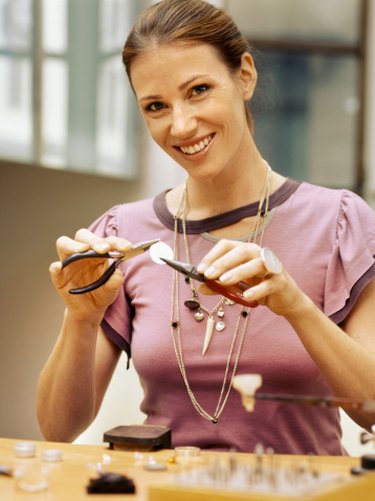 Even though sterling silver is metal, it can become scratched, dented and otherwise misshapen through wear and tear. All these flaws can be repaired. If the piece, whether it's a bowl or a brooch is engraved, embellished with a gemstone, or given a patina to make it appear tarnished, removing dents can be more challenging. A hobbyist can remove dents from a simple silver brooch with the use of a jewelry tool called a dapping block.
Step 1
Place the silver brooch on a fireproof brick.
Step 2
Light the torch using a flint striker.
Step 3
Hold the flame of the torch about 1 to 2 inches above the brooch to anneal the silver. Annealing silver makes the metal malleable so you can remove dents.
Step 4
Turn off the torch once the silver turns a dull red, as it is then annealed.
Step 5
Place the silver brooch in the pickle solution. This removes oxidization formed during the heating process. Let it sit for two minutes.
Step 6
Remove the brooch from the pickle solution using copper tongs. Rinse the brooch in water and dry.
Step 7
Place the wooden dapping block on a table. A dapping block has several circle-shaped hemispheres carved into it. Place the brooch facing downward into a hemisphere that accommodates the entire brooch. If you use a circle that's too small, you may add a new dent or groove to the brooch.
Step 8
Grasp the wooden punch that comes with the dapping block. This is a piece of wood that almost looks like a muddler you'd use to crush mint when making cocktails. Place the rounded top of the punch in the center of the dent. Gently hammer the end of the punch with the rawhide hammer. Check to see if the dent is removed.
Step 9
Repeat the softening steps if the dent is still present and the metal has become hardened from hammering. Anneal and pickle the metal again. Continue using the dapping block until the dent is removed.