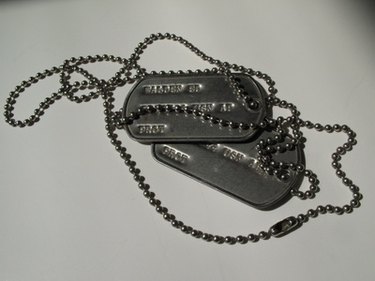 Little boys love playing games where they pretend to be soldiers. Instead of spending money to buy dog tags, you can help kids make their own dog tag crafts to use when they pretend to be soldiers. Dog tag crafts are incredibly easy to make using simple products around the home or by purchasing a few craft items. Once you get the kids started making dog tag crafts, soon everyone in the house will own a set.
Paper Tags
Kids can easily create their own set of dog tags by cutting out a piece of thick, card stock paper, cardboard or poster board into a rounded-corner, rectangular shape. Choose a thicker piece of paper, and paint it silver or gray with a brush or spray paint, or wrap the piece in a sheet of aluminum foil to give the tag its signature color. Use a hole punch or scissors to cut out a hole for the necklace piece, and attach a silver piece of cloth or elastic string. Write the child's name on the tags with a permanent marker, avoiding putting full names or Social Security numbers in case the tags were to fall into the wrong hands.
Foam Sheet Tags
Cut a rounded, rectangular piece out of silver foam rubber, or make pretend dog tags out of other colors or shapes. Outline the piece to make a faux border like on a military-issued set of dog tags. Use a hole punch or pair of scissors to create a hole for a string to tie the dog tag around the child's neck. You may choose to create a string from a silver or other colored piece of cotton or elastic string, or create a chain with safety pins or paper clips to use as the string piece of the children's pretend dog tags.
Aluminum Dog Tags
Another dog tag craft for kids that is more realistic looking involves using empty pop cans or disposable pie pans to create the basic dog tag piece. Because the aluminum may cause cuts to the skin, adults should prepare this craft. Cut the aluminum into the necessary pieces for the dog tags, and use needle-nose pliers to bend and fold the edges of the piece inward to create a border and eliminate sharp edges. Punch a hole into one end of the piece, and fold or press the piece of aluminum down around the hole to cover or eliminate sharp edges. Use a pencil to press and engrave the child's name into the piece, and use cotton, elastic, linked safety pins or linked paper clips as a chain for the dog tags.