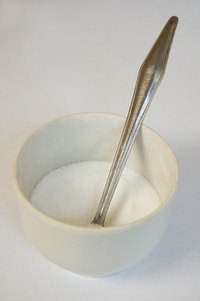 Metal workers, artists and crafters all rely on flux to complete many of their projects. Flux is a substance that comes in powder, paste and liquid forms. It is used when metal is melted and soldered. Flux functions to prevent oxides from forming on the surface of heated metals. In addition to helping molten metals flow better, flux helps solder to adhere to metal and to flow with greater ease. While many hardware and jewelry making supply stores sell flux for all purposes, including silver soldering, it is possible to make your own silver soldering flux with a few simple ingredients.
Things You'll Need
Borax
Potash
Table salt
Measuring cup
Measuring spoons
Mixing bowl
Water
A Three-Ingredient Silver Soldering Flux Recipe
Measure 1 cup of borax. Pour the borax into a mixing bowl.
Pour 1 cup of potash into a measuring cup. Add the potash to the borax in the mixing bowl.
Measure 1/2 cup of table salt. Put the table salt in the mixing bowl with the borax and potash.
Mix the three ingredients together until they are fully combined.
Pour the flux mixture into a lidded jar. Keep the lid on the jar when the flux is not in use.
Use the flux dry. Or, if desired, add just enough water to the flux to turn it into a paste.
Modify amounts used in this recipe to suit your needs. Remember to always use the basic formula of 2 parts borax, 2 parts potash and 1 part table salt.
A Two-Ingredient Silver Soldering Flux Recipe
Make a silver soldering flux using just borax and salt if you lack potash. This flux works fine.
Measure 1 tbsp. of borax with a measuring spoon. Pour the borax into a mixing bowl.
Add 1 tsp. of salt to the borax in the mixing bowl.
Mix the dry ingredients with just enough water to form a paste.
Increase the amounts of this recipe if you desire, but always use 1 tbsp. of borax for every tsp. of salt.