Horseshoe nail crosses have become a popular accessory among jewelry-wearers of all shapes, ages, sizes and backgrounds. These crosses are most commonly made into pendants or earrings. And they make excellent gifts for first communions, confirmations, Easter or other religious events.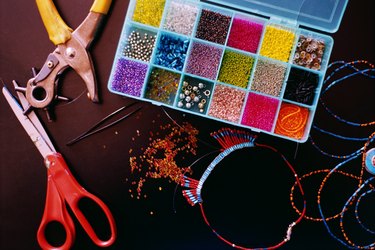 Things You'll Need
Carbide Burring Bit Or Jeweler'S Files

Black Permanent Marker

Fine Wire Wheel Or Buffing Wheel And Compound

Hand-Held High-Speed Rotary Tool

4 New Horseshoe Nails

Measuring Tape Or Ruler

Tape, Board And Drill Press

Carbon Steel Brush Or Emery-Impregnated Disk

Instant Adhesive, Semi-Precious Gemstone Cabochons Or Crystals (Optional)

Lead-Free Silver Solder

Nippers, Dykes Or Jeweler'S Saw

Soldering Iron Or Torch

20-Gauge Or Finer Copper Wire
Step 1
Measure and mark three new horseshoe nails 1 inch from the nail head using a ruler or measuring tape and a black permanent marker. Mark the fourth nail 1.25 inches from the nail head.
Step 2
Cut the nails to length from the pointed ends using nippers, dykes or a jeweler's saw. Do not cut off the nail heads.
Step 3
Tape the short nails to a board. Bore a hole through each nail using a titanium-coated bit and a drill press, about 1/4 to 1/8 inch from each nail head. This will allow you to use the cross as a pendant or earrings, or connect multiple crosses using jump rings or other jewelry pieces.
Step 4
Deburr the holes using jeweler's files or a burring bit on a high-speed, hand-held rotary tool. Grind the cut ends of each nail smooth using a carbon steel brush or emery-impregnated disk.
Step 5
Arrange the four nails in a cross with the nail heads at the outer tips and the narrow ends touching in the center. The three short nails become the top, left and right arms of the cross, with the long nail at the bottom.
Step 6
Fuse the nails together using lead-free silver solder and a soldering iron or small propane torch.
Step 7
Clean the soldered area using jeweler's files or a carbide burring tip on a high-speed, hand-held rotary tool.
Step 8
Repolish the cross using a fine wire wheel or a buffing wheel and compound. Bind the center of each cross in an "X," if desired. You may also use instant adhesive or solder to attach a semi-precious gemstone, cabochon or crystal to the center.
Tip
It is essential that joint faces be clean and oil-free to obtain a sound joint. Solder will not flow across nor bind to a dirty or oxidized metal surface.
Horseshoe nail crosses make great gift bag items at horse-themed birthday parties, especially for pre-teen and young teen girls.
Decorate your cross by spray painting it or hot gluing plastic gems to it. Personalize the design and make it feel original.
Warning
Always wear wrap-around eye protection when drilling, grinding or polishing.