Things You'll Need
Measuring tape

Pantyhose

Scissors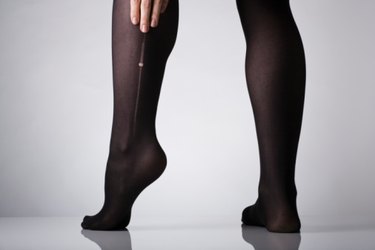 A gaff is a garment that is used to hold the male genitals close to the body, cradling them close between the legs and creating a smooth front. While gaffes may be purchased, and while you may simply wear a very snug pair of panties or control-top pantyhose, a quick homemade gaffe can be thrown together very easily.
Step 1
Cut the waistband from the top of an old pair of pantyhose. The waistband section should be at least an inch thick, but do not make it too thick, otherwise it might roll and bunch.
Step 2
Cut one leg from the pair of pantyhose, making a straight cut that is level with the pantyhose's crotch.
Step 3
Cut a 10-inch segment from the top of the leg that you have just removed from the main body of the garment. You now have a 10-inch cylinder of nylon.
Step 4
Pull the waistband halfway through the center of the cylinder of nylon.
Step 5
Bunch the cylinder in the middle of the waistband. At this point, the gaff is ready to wear. Step into the openings created by the waistband and the nylon in the center, bringing the waistband to rest over your hips. Use the nylon in the center to secure your genitals.
Tip
Make a simpler gaff by cutting the legs off of the pantyhose and pulling the pantyhose very close to your body.