Things You'll Need
Microwavable plate

Gyro meat

Plastic wrap

Fork

Casserole dish

Oven mitts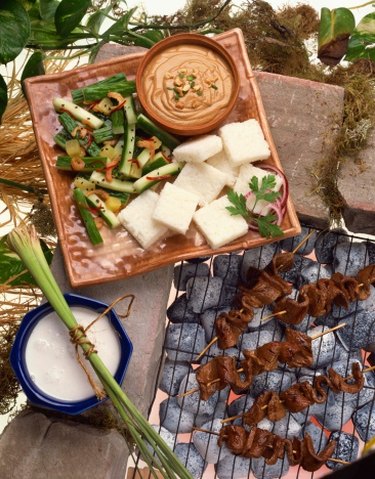 The gyro is a Greek sandwich made from thin, succulent seasoned meats. While this food has its roots in Greece, it is enjoyed in delis and restaurants around the world. The process to make this paper thin meat requires some patience and many home cooks prefer to buy the frozen variety. You'll need to reheat your gyro meat before you can use it on your favorite pita or sandwich bread. Gyro meat is often paired with a mild cucumber-yogurt sauce or spicy tahini.
Step 1
Place your gyro slices on a microwave safe plate. Cover the plate loosely with plastic wrap.
Step 2
Heat the gyro meat in 30 second intervals turning it over every minute to avoid overcooking. The meat is done when it is warm and steamy.
Step 3
Preheat the oven to 425 degrees F. Place the gyro meat in a casserole dish with 2 tbsp. of water.
Step 4
Put the dish in the oven and heat for 10 to 15 minutes. This method of heating is called flash heating.
Step 5
Remove the casserole dish with oven mitts and serve the meat hot.
Tip
Reheat gyro meat in skillet with 1 tbsp. of olive oil.